NEWS
Shawntel Newton Says Courtney Robertson Prevented 'Bachelor' Ben Flajnik From Giving Her a Rose!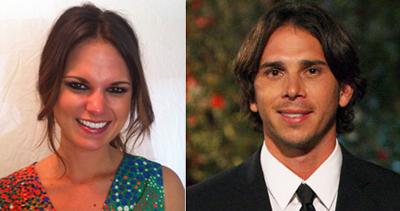 Emotions were running wild on this week's episode of The Bachelor, where alumnae Shawntel Newton crashed the cocktail party and confessed her feelings for Ben Flajnik. And although Ben said the feelings were mutual, he ended up sending Shawntel packing. But what made him make that decision? Shawntel says it might have been all of model Courtney Robertson's doing!
"I thought I was going to get a rose, but it was wrong timing. I was really surprised," Shawntel tells OK! of that fateful night. "I could tell that I was going home as soon as he said it wasn't right.
Article continues below advertisement
OK! NEWS: BACHELOR RECAP: SHAWNTEL NEWTON CRASHES THE COCKTAIL PARTY, BUT DOES BEN FLAJNIK GIVE HER A ROSE?
Courtney gave him an ultimatum that if I stayed then they would go home, so he said that there are no hard feelings and that it just isn't fair. I think he already had some connections with some of the girls, so he didn't want to ruin that."
And although Shawntel could understand why Ben saw the situation as "unfair," she still was a little upset, considering she doesn't think anything is necessarily "fair" on The Bachelor.
"To defend him, yes it is unfair, but I am sorry the whole situation is unfair," Shawntel explains to us. "You're trying to compete for one guy, what's one more girl? In my closing interview on the show I said being fair needs to be thrown out the window. This is someone that you're probably going to marry so I don't think fair is right in this."
OK! NEWS: BEN FLAJNIK SENDS TWO MORE GIRLS PACKING ON THE BACHELOR
Article continues below advertisement
As for whether or not the 15 other girls treated her fairly when she walked into the party, Shawntel says absolutely not.
"I was beyond surprised, but I expected to have girls upset and confused. I did not expect to get the reaction that I did though," Shawntel says. "It was really uncomfortable to have 15 pretty girls pick on me. It was like out of the movie Mean Girls."
And she adds that watching it unfold on Monday night just made her feel worse. "Watching it and hearing some of these girls' comments on my body and them saying that I am ugly in person or that I am a b**ch. It was like 'Wow!' There was nothing that could have prepared me for that. I was not expecting that. I was hurt by all of those comments. There was not one thing said that was nice."
Shawntel is currently dating, but more focused on getting her masters degree and working at her family's funeral home. Let's just assume after this week's antics, she will not be returning to The Bachelor anytime soon.