NEWS
Shayne Lamas, Former 'Bachelor' Winner, Announces Pregnancy!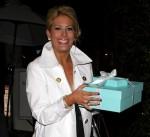 Actress Shayne Lamas, the daughter of Lorenzo Lamas and former winner of The Bachelor, has announced her pregnancy with husband Nik Richie with a due date of November 11 (yep, as in 11/11/11). Shayne and Nik tied the knot in Las Vegas after a seven hour courtship (yes, you read that right).
OK! NEWS: EMILY MAYNARD GIVES BACK HER ENGAGEMENT RING FROM BRAD WOMACK
The soon-to-be grandpa told Radar Online, "I'm speechless," Lorenzo said. "I'm happy for them...I want to be called Papa Lolo by the baby. It's easy for a kid to wrap their tongue around." Plus, looks like Lorenzo has some happy news of his own since he'll get married for the fifth time at the end of this month to Shawna Craig.
Article continues below advertisement
OK! NEWS: EMILY MAYNARD AFTER THE ROSE — "I'M NOT READY TO MARRY BRAD WOMACK"
Nik confessed, "It is going to be weird when they have kids and the uncle/aunt is younger than the nephew/niece." Overall, though he's really looking forward to fatherhood. "I didn't want it to get out until I was 100 percent ready for it but at the same time, she looks beautiful and I think she should embrace her body right now."