NEWS
'Sheen's Korner' Episode 3: Manic Charlie Sheen Lashes Out Against "Trolls"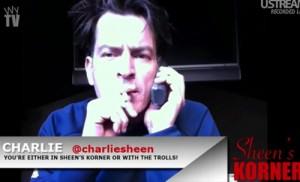 Charlie Sheen appeared in very disordered state on the third episode of Sheen's Korner, which aired live last night on UStream. The 45-year-old actor sported bedraggled hair and chain-smoked his way through the webcast entitled, "Torpedoes of Truth Part 2." He also delivered his most manic rant to date filled with "epic" and "winning" ideas, his "golden plan" and an angry lash out at trolls.
For episode three, Charlie tapes a phone conversation he has with his business associate, Bob Maron.
Article continues below advertisement
"Let me see if this thing even has speaker, because it was built by trolls, phones were built by trolls. Keep that in mind," Charlie raved at the start of the live stream.
"I'm smoking a cigarette and drinking something I won't reveal unless they pay me," he added. (Possibly the non-alcoholic creation based off his "Sheenism," Tiger Blood?)
He continued to rant about his Twitter success and his current lifestyle.
"If you own the home in which you own the trash can, you should never have to empty it, ever, ever, ever again," Charlie told Bob.
When Bob joked about there conversations being recorded during the "brilliant" live broadcast, Charlie explained, "I did say early on that this is being recorded. People need to hear my gold as it rolls out, not as its disappearing, disappearing, like so many frickin' magician's rabbits."
Article continues below advertisement
Bob replied, "I'm like everyone else out there and I'm learning the translation as we go. I think that's it for now."
"How can that be it, we are in the middle of a movement here, an odyssey of epic proportions, epic, epic proportions."
OK! NEWS: TIGER BLOOD DRINK — DIDDY TWEETS COCKTAIL RECIPE; RESTAURANTS FOLLOW
Bob then lauded Charlie for his "brilliant" Tweets.
"Well, hello, duh. Technology is b...b..bitchin, It's radical, its radical and the people are doing exactly what they should be doing which is watching me and listening to you. Because we have all the answers, we have all the gold, we have all the solution, Bob, and keep it in mind anytime I roll something out...My plan is the best plan in the room and people are starting to wake up and realize that. My plan is gold... Walk into my plan and you are going to win."
"Winner, winner chicken dinner I don't think so. Winner Winner Sheen dinner."
At one point, a manic Charlie refers to his beloved pug that just died at his house, and told Bob it was "a Sheen dog and its soul is inhabited by the ghost of Betty and it will murder people who will eat trolls with its razor fangs and drop their spleens off at their children's unintelligible houses."
Charlie also continuously praised himself and said he was just "f****ing brilliant."
Article continues below advertisement
When viewers tried to call into the show, he would get angry and tell callers to stop interrupting the "brilliance that is happening."
As the conversation continued, Charlie kept running his hands through his hair, which looked like it hadn't been washed or tended to in a long while.
Charlie also couldn't sit still the entire time.