NEWS
Shelley Malil, Actor From '40-Year-Old Virgin', Gets Life in Prison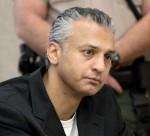 Shelley Malil, an actor who played Steve Carell's coworker in the hit movie The 40-Year-Old Virgin, was sentenced to life in prison on Thursday for the brutal attack of his ex-girlfriend Kendra Beebe.
Shelley, 45, stabbed Kendra more than 20 times back in August 2008, after he found his ex with another man at her Vista, Calif. home. She survived the attack.
OK! NEWS: SCREEN ACTORS GUILD AWARD NOMINEES ANNOUNCED — SURPRISES & SNUBS!
Article continues below advertisement
In October, a jury found Malil guilty of premeditated murder and assault with a deadly weapon. His attorney failed to get a new trial.
On Thursday, the actor addressed the court before his sentencing, according to NBC San Diego. "I am at a loss for words right now," he said. "I failed miserably, not only as a human being but as a father, son, uncle, brother, friend. What I did to Kendra, I don't have the words to express my remorse."