NEWS
Sherri Shepherd Is "Praying" For Demi Moore & Wants Her To Get Back With Ashton Kutcher!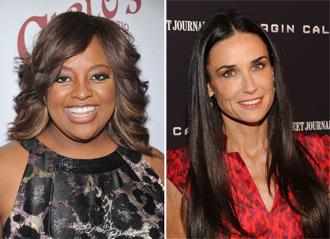 Demi Moore has been through a tough time these past couple days and no one is praying for her more than Sherri Shepherd. At Dance With Me Studios' Ballroom Birthday Bash for Maksim Chmerkovskiy in NYC, Sherri spoke exclusively to OK! about her best wishes for Demi.
"I am praying for Demi," Sherri said. "It's very hard for your private life to be so public and even we do it. We talk about it. So it's hard to not turn on the TV without somebody talking about your life."
Article continues below advertisement
OK! NEWS: DEMI MOORE'S KIDS VISIT DAD BRUCE WILLIS WHILE SHE SEEKS "SPIRITUAL COUNSELING"
"We don't know what's going on behind the scenes so I am praying that — as the ladies of the View are as well — that she gets better. I feel Demi is a survivor and in my heart of hearts, I secretly hope that her and Ashton Kutcher get back together, as I am Seal and Heidi Klum. I don't like breakups. I loved it when her and Ashton got together. It was like, against the odds of what everybody was saying about them. So I really hope that they make it, that they reconcile."