NEWS
Sherri Shepherd Talks Dating, Dieting, Divas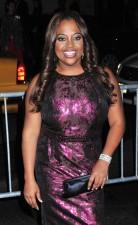 Sherri Shepherd's sitcom, Sherri, kicks off tonight, and she recently filled me in about life in her shoes as the slimmed-down View co-host who is a single (and dating) mom to son Jeffrey, 4.
A few months ago, Sherri was giddy about her relationship with MVP. What's the status?
"We're really good friends because he's on the road," she tells me. "He was actually in Toronto when I was there recently. He got stopped by a police officer, and she recognized him as my boyfriend, so he didn't get a ticket. But he's on the road 352 days a year, and we don't get to see each other. We've gotten a really good friendship together."
Article continues below advertisement
When Sherri isn't making time with MVP, she's hitting the gym.
Her weight loss was documented with an OK! photo shoot in August. She maintains it by meeting with her trainer three days a week beginning at 5:30 a.m.
"I like the results," she says. "I'm actually in this dress, and normally I wouldn't have been able to fit in this, and it's actually going well."
What's her routine?
"Girl, I do a lot of squats because I've got a booty," she says. "I'm getting this booty, I love it. I do a lot of squats, treadmill, and a lot of stairs."
Sherri has changed her diet, and these days her favorite healthy snack involves vegetables. "I love sautéed broccoli and sautéed spinach, and a lot of mushrooms."
Keeping her on track are the ladies of The View, who inspire her to be her best.
"The women I work with are divas because they're confident, they have a passion for what they do, and they go out and do it – especially Barbara Walters and Whoopi Goldberg," Sherri tells me. "On each end of me are the two biggest divas I know."
With all the excitement, her lil' boy Jeffrey is #1 in her mind.
"He's doing great," she says. "He's actually started second-year preschool. I'm going home to kiss him goodnight."
Catch Sherri in her self-titled sitcom, which airs tonight at 7 p.m. ET/6c on Lifetime. And, tune in Tuesdays at 10 p.m. beginning October 13. Plus, watch her daily on ABC talk show The View.