NEWS
Sherri Shepherd's Sexy New Look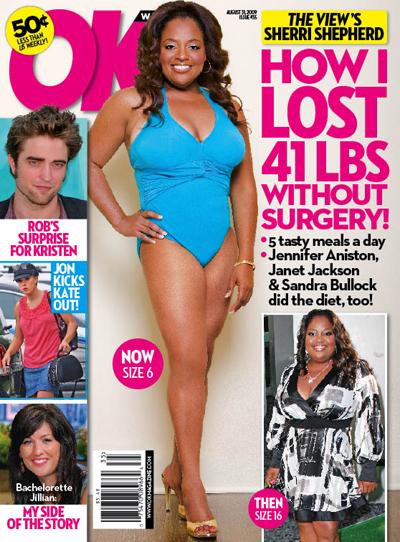 Sherri Shepherd: The View co-host stays true to her word and dons a bathing suit on the pages of OK!. Read about her amazing 41-pound weight loss, her arduous exercise regimen and her Fresh Diet plan, including meal descriptions. Plus, Sherri dishes on her new Lifetime show and her autobiography, out in October.
Dancing With the Stars: Catch OK!'s wrap-up of the Dancing With the Stars off-screen romances. And meet the cast of the ninth season, a diverse group this year, including stars like Donny Osmond, Melissa Joan Hart and Kelly Osbourne.
Twilight: Edward and Bella are an item in real life, too! While shooting Eclipse — the third film in Stephenie Meyer's Twilight series — in Vancouver this month, Robert Pattinson and Kristen Stewart attended a Kings of Leon concert and engaged in some serious PDA, much to the delight of their devoted fans.
Jon and Kate: After a public argument on Aug. 13 over Jon Gosselin's choice of a babysitter, Kate found herself locked out of their Wernersville, Pa., residence and called the cops. Find out what happened once the police arrived — and more on the pretty young babysitter.
The Bachelorette: Jillian Harris laughs off rumors of a split with her fiancé, Ed Swiderski, talks about their strong relationship and explains why she might like to be out of the limelight. Plus, a rundown of the matches from each season of The Bachelorette and its counterpart, The Bachelor.
Jen and Renée: According to inside sources, Jennifer Aniston says Renée Zellweger can have Bradley Cooper (who made no attempt to hide his affections for Renée while vacationing in Spain early this month). Despite Jen's reported June fling with Bradley, friends of the star say she's enjoying the single life and not interested in competing for anyone's attention.
Plus: HawthoRNe's Christina Moore models the latest feminine silhouettes and talks about what it's like to work with Jada Pinkett Smith. Meet the cast of the new Melrose Place, which includes some blasts from the past. Avril Lavigne introduces a new fragrance, Black Star, and tells OK! about her beauty essentials. OK! editors solve your summer beauty problems. Find a guide to the hot spots in Shanghai, China. And lasting impressions with Tori Spelling.
Article continues below advertisement