NEWS
Sheryl Crow Gives Advice For New Parents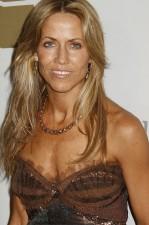 Sheryl Crow's son Wyatt is the light of her life.
"I love everything about being a mom," the Grammy winner, 47, says. "Even the terrible twos, which are terribly fun. It's great. I love every second of it."
Sheryl adopted her little guy in 2007 after overcoming a battle with breast cancer the previous year.
She offers sage advice for Katherine Heigl and hubby Josh Kelley, who recently adopted daughter Naleigh.
Article continues below advertisement
"Grab sleep where you can," Sheryl says. "One of the great things that my baby nurse told me was to talk to your baby all the time because it stimulates their brain, and they're already starting to learn. Even though they're not talking yet, they're learning."
The proud mom earned cool points with the kids in her family by performing her song If It Makes You Happy with Miley Cyrus during VH1 Divas last month.
"Let me tell you, I am the coolest aunt now," Sheryl beams. "I've finally made it in my nephew and nieces eyes. I'm very proud. I think she's amazing. She is a doll. Love her. I'm so proud of her."
Life is certainly a joy for this breast cancer survivor, who last underwent screening in April.
"Everything was good," she tells me.
Pick up OK!'s Pink Issue on newsstands now for a Last Word interview with Sheryl Crow. And, give back to various breast cancer charities by purchasing Sheryl's Take Flight Everywhere Bag. Go to bonton.com to see the environmentally-friendly totes decorated with her song title "A Change Will Do You Good."