NEWS
Sheryl Wants YOU!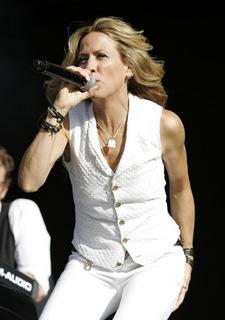 As election fever sweeps the nation, Grammy winner Sheryl Crow is teaming up with Rock the Vote to get young people involved in the political process. New voters can register to vote at Sheryl's special link on RockTheVote.com and receive a free download of her new single, "Gasoline." The download is also available for current members of the Rock the Vote email list.
The first 50,000 people to get three friends to sign up as well will also receive digital copies of Sheryl's new album, Detours.
Article continues below advertisement
"I have been involved with Rock the Vote since its inception and proud of the work they have done," says Sheryl of the campaign. "There are such critical issues facing our country, from high gas prices to climate change that we need to do more then just register to vote, we need to get our friends registered too."
Sheryl has worked with the campaign for over 18 years in many capacities, including spokesperson, board member and activist. This year's drive for voters registration hopes to sign up 44 million young Americans.
"We are thrilled to partner with Sheryl Crow to register young voters," says Heather Smith, executive director of Rock the Vote. "Bringing together music and politics is core to Rock the Vote's mission. Working with Sheryl, we can reach out to her fans and encourage them to register and encourage their friends, family and co-workers to do the same."