NEWS
Shia LaBeouf Says Justin Bieber's "Like Buddha" & Selena Gomez "Is Really Pretty"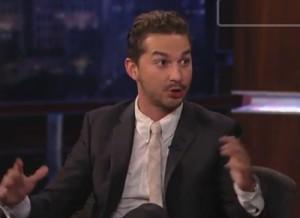 Shia LaBeouf seems to be doing some damage control and may be converting himself into a Belieber. After recently dissing Justin Bieber's "worldwide popularity," the Transformers: Dark of the Moon star praised the 17-year-old for his buddha-like presence, and gave a special shout out to his girlfriend Selena Gomez last night on Jimmy Kimmel Live.
Host Jimmy Kimmel joked that Shia better watch out for Justin now that the 25-year-old actor has made The Bieb's girlfriend, Selena Gomez, swoon.
Article continues below advertisement
But he isn't worried, because he met Justin and thinks he is "cool."
"He rolls with like a huge squad," Shia said of JB. "He has to, he has this presence like Buddha. He's like the young prince."
He added: "I went up to him at the MTV Movie Awards to say hi and security was like, 'Whoa, whoa.' He was ready to take me down. Bieber just does this two finger wave, like, he's okay. So he's very cool. Bieber's bomb. He's like a 60-year-old Sinatra and he has so much presence."
On meeting Selena — who openly has a huge crush on the actor and admires his work — Shia said she was a "very pretty girl" and a "very cool person."
Selena was recently tricked into meeting her crush and after their hug, she gushed "Oh, my gosh! He's so handsome!"
Shia also opened up about his new Transformers film and his love life with Jimmy.
Watch his entire interview in the clips, below!