NEWS
Shia LeBeouf Slams Justin Bieber & Robert Pattinson's "Worldwide Popularity"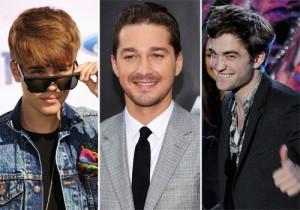 Shia LaBeouf doesn't want a legion of Beliebers or Twi-hards chasing after him. The Tranformers: Dark of the Moon star recently opened up in an interview about the ills of worldwide fame, taking a a jab at superstars Justin Bieber and Robert Pattinson.
"Popularity is like a drug," Shia said in an interview with Italy's Un'Intervista magazine, via Hollywood Life. "I would not want the worldwide popularity of Robert Pattinson or Justin Bieber. Even if you don't reach those levels, it's hard not to feel at least a little almighty."
Article continues below advertisement
The 25-year-old actor has been on a bit of a media bender promoting the third installment of the Transformers franchise, during which he admitted to hooking up with former co-star Megan Fox and criticized director Michael Bay for being difficult to work with.
And now he is taking a jab at R-Pattz, 25, and The Biebs, 17?
Justin's girlfriend, Selena Gomez, has been very open about her crush and support of Shia, telling Billboard magazine that she thinks he is "talented and doing wonderful things."
We wonder if she will change her mind now.