NEWS
Shop Yourself Slim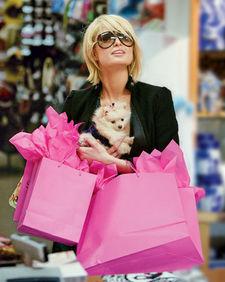 Don't let the mall ruin your diet! OK! tells you what you're really eating at the food court
The holiday season is already here, and there are only a few days left to get your shopping done. But before you find the perfect recipe for diet disasters in your mall's food court, Penny Geller, director of nutrition for Nu-Kitchen, tells OK!, "You are better off getting a healthy snack instead of a whole meal... save dinner for when you get home." Here are Penny's do's and don'ts for the food court, plus some tips on how you can get your workout in, too!
Article continues below advertisement
Chinese
BAD CHOICES
General Tso's chicken
650 calories, 42g fat
Orange chicken
500 calories, 27g fat
Spare ribs
400 calories, 23g fat
BETTER OPTIONS
Vegetable spring rolls (2)
160 calories, 7g fat
Hot and sour soup
110 calories, 3.5g fat
Stir Fry
BAD CHOICES
Fried rice
450 calories, 14g fat
Pan-fried dumplings
400 calories, 12g fat
Beef lo mein
1,000 calories, 42g fat
BETTER OPTIONS
Steamed veggie dumplings (4)
300 calories, 8g fat
House special soup
200 calories, 6g fat
Fast Food
BAD CHOICES
Large sandwiches with two or three beef patties
Could range up to 800 calories, 40g fat (mostly saturated!)
French fries
Up to 600 calories, 30g fat
BETTER OPTIONS
Grilled snack wrap (no dressing)
200 calories, 10g fat
Salad (veggies only, light dressing)
150 calories, fat depends on dressing
Fruit and yogurt parfait
160 calories, 2g fat
Italian
BAD CHOICES
Article continues below advertisement
Pizza with the works
900 calories, 44g fat
Lasagna
800 calories, 36g fat
BETTER OPTIONS
Salad with dressing on the side
(Dip fork in dressing with each bite.) Less than 200 calories, fat depends on dressing.
Sub Shops
Stay away from 12-inch subs — they're just filled with calories (about 600 per sandwich), and cold cuts aren't the best meat option. Instead, go for a 6-inch veggie sandwich, which has about 160 calories.
Work Out While You Shop!
Are you skipping the gym to get in some extra shopping? Bryn Mars, assistant fitness manager at The Sports Club/LA, tells OK! how to get a workout in while you're at the mall.
SKIP THE CART
Try to distribute bags evenly in each hand; depending on the weight, you're burning an extra 30 calories an hour.
TRY IT ON
Hitting the fitting room not only insures that everything looks good, it also burns an extra 204 calories an hour.
Article continues below advertisement
NO STROLLERS
Carrying your baby or toddler can burn an additional 50 calories per hour .
TAKE THE STAIRS
Long wait for the elevator? Opt for the stairs and burn an additional 272 calories an hour. Work your butt and hamstrings by skipping every other stair.
SPEED IT UP
Speed walking will get you there quicker and burn up to 400 calories more than regular walking.
NO SITTING
While you're in line, don't find something to sit or lean on. Standing burns
61 calories more per hour than sitting does.
Healthy Snacks
Nu-Kitchen's Geller tells OK! that it's imperative to eat every two to three hours so you'll never be famished. Some great snacks: trail mix, fruit or a protein bar (as long as it's got fewer than 150 calories). OK!'s favorite snack is pistachios. In fact, a recent study at Penn State found that just a 1.5-ounce serving of these nuts can reduce stress. Instead of letting low blood sugar, moodiness or holiday lines make you crazy, have a handful of pistachios!