NEWS
SHOULD YOU WATCH: 90210?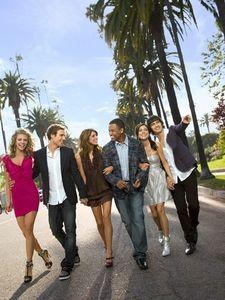 Tonight, the premiere of 90210 finally rolls out.
We didn't get a screener here at the OK! office (or did any place else, for that matter!) as The CW wanted the show to be experienced by everyone at the same time. Sure they did…
Luckily, I've run into a few of the stars at random parties and events to get a little sneak peek of what they had to say about their characters and the show. So read on:
Michael Steger (Navid Shirazi, far right in pic): "Navid is a bit self-entitled and arrogant at times, but he's looking for some integrity in his life. He's just very career-oriented. He wants a real friendship but he has a hard time making friends."
Article continues below advertisement
Jessica Stroup (Silver, second from the right): "I kind of dig Silver because she doesn't follow the rules, she dresses differently and thinks differently, but I think that's what makes her so cool to play.
Tristan Wilds (Dixon Mills, third from the right): "Dixon has gone from a bad neighborhood and is getting a good opportunity with a good family when they move to Beverly Hills, but it won't be an easy change for him."
Look, all I need is for original 90210-ers Shannen Doherty and Jennie Garth to get into anything that resembles a catfight, and I'll declare it a bonfide hit!
90210 premieres Tuesday, Sept. 2 at 8 p.m. on The CW.