NEWS
SHOULD YOU WATCH: Denise Richards, It's Complicated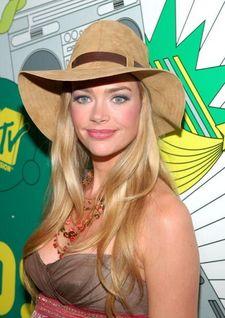 Dating ain't easy. You get all glammed up and psyched out, with no guarantee the person sitting next to you is going to be even mildly entertaining, and could be downright crude.
Of course, I'm feeling right now for the men who are set up with Denise Richards on her new reality series Denise Richards: It's Complicated.
The actress and tabloid-headliner takes us on a journey into her life, from dealing with the DMV to jumping back (head first?) into the dating pool.
Article continues below advertisement
In the first episode, Denise heads down to the DMV to try and get her license changed back to her maiden name.
There are complications (duh, it's the show's title!), but nice to know that the DMV doesn't make special amends for celebs.
I'm convinced that all TV personalities sit around and read about themselves on the Internet. Denise and her friends trace her love life as it's outlined online. They want the soon-to-officially-be-ex Mrs. Sheen to find a "normal" guy. Denise responds that normal for her is "a famous actor or rock star." A basic warning to all of us to lock up those type of men! But she gives in to go a blind date, which is painfully funny to watch.
The show does have its poignant moments. Denise's father, Irv, has moved in with the family. He was married to Denise's mom, Joni, for 37 years, until Joni passed away from cancer last year. Denise's daughters Sammy and Lola are adorable. And there are plenty of cute animals running amuck on the Richards' estate.
But there's also Denise's fowl mouth (she curses, a lot!) and pig copulation and Denise getting spray tanned in the nude. Some people might like that. Can't say that I did.
While I feel 30 minutes of Denise's life is 29 more than I needed, unlike Dina Lohan's new show, Living Lohan, Denise does act like she's in on the joke.
Denise Richards: It's Complicated, premieres Monday, May 26 at 10 p.m. on E! Network.