NEWS
Should You Watch: The Real Housewives of Atlanta?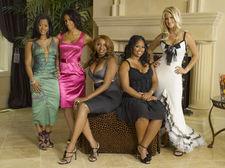 We've seen what the glamorous life is like for housewives in Orange County and New York City. Those gals got nothing on the women of Hotlanta!
Bowling alleys and hair salons inside the house? Check. Former girlfriends fallen out and on the warpath? Absolutely. The token friend? In this version, she's white. Totally wild!
The Real Housewives of Atlanta, the third incarnation of Bravo's hit reality series, follows the life of five women living large down south in America's most affluential African-American communities.
Article continues below advertisement
DeShawn is married to Eric Snow, captain of the Cleveland Cavaliers. Their house is bigger than serveal basketball courts. DeShawn's got to run that abode like a business, or more importantly, hire someone to do it for her!
Lisa just married her husband, NFL player Ed Hartwell, had a baby and is running several businesses. The girl is working for what she got.
Kim has a mysterious boyfriend who chooses not to be identified to her friends, or on this show (smart move?). But he doesn't mind Kim spending his money. Her idea of an impulse buy? An Escalade! Just wish she had spent a little more on the fabric of one of her statement dresses.
Sheree and NeNe are the gals who had that mysterious falling out some time back.
Sheree's about to throw herself a birthday party, and NeNe's invited… or is she? With these two, you just know someone is going to be whipping off the diamonds and reaching for the Vaseline before the season is done. Sheree uses the "B" word to describe herself later in the series and at this point, I have to fully concur…
The Housewives of Atlanta has all the elements of its sister shows: Women spending globs of cash on fashion and frivolity while forging or fighting over friendships among themselves.
But was definitely time to see a version with some diversity. Just goes to show that anyone can be rich and act like a, well you know, if she wants to.
The Real Housewives of Atlanta premieres Tuesday, Oct. 7 at 9 p.m. on Bravo.