NEWS
Should You Watch: The Real Housewives of New York City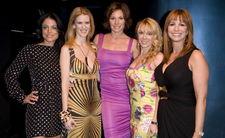 I've never been bothered by the ridiculously wealthy women of The O.C. But watching The Real Housewives of New York City, which hits so much closer to home for this Manhattan gal, all I could think was that their closets are bigger than my entire studio apartment!
The new Bravo series follows five rich and successful women making it in the Lipstick Jungle. They do have it all — which is part of the problem. How can you relate to a woman like Contessa LuAnn, whose biggest life issue is that her pure-bred Westie isn't potty-trained. (I'm actually more interested in her housekeeper Rosanna, who has to clean up the family dog's mess. I hope she's getting paid!) Then there's Ramona, who has a vicious Gossip Girl moment that involves almost drowning her friend's dog while she's dressed in a skimpy bikini at her Hamptons pool. She's then scolded by her 12-year-old daughter. That just ain't right.
Article continues below advertisement
Jill has one of the more interesting stories as she tries to get her 14-year-old daughter to bond with her stepfather and helps her battle weight issues. And I'm feeling for Bethenny, the natural food chef who's ready to marry her boyfriend and start her family, even though he's clearly not.
While these Housewives' stories may get more emotional down the line, at the moment, it's hard to swallow this big golden apple.
The Real Housewives of New York City premieres Tuesday, March 4 at 11 p.m. on Bravo.