NEWS
Sienna & Balthazar: Still Hot?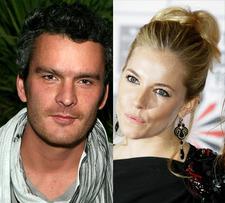 In their continuing quest to show the world they're still quite the couple, Sienna Miller and Balthazar Getty dined out at Il Sole in L.A. last night. But apparently, all wasn't well with the high-profile couple.
An eyewitness tells OK! things began normally, and "started out looking like a romantic dinner. The pair "giggled and spoke very closely" during dinner, sharing the heirloom tomato and burrata salad, the seven-layer lasagna and lobster ravioli.
Article continues below advertisement
However Sienna eventually became "visibly upset and seen wiping away tears," and left the restaraunt teary-eyed while Balthazar followed.
Although British tabloids had reported that the twosome had split after Sienna was quoted as saying she was happy to be single, a rep for shot down that rumor earlier this week, telling Page Six: "Contrary to British reports, Sienna never gave an interview about her relationship with Balthazar. An old quote was pulled from an interview three years ago."