NEWS
Sienna Staying (Sort Of) Mum on Jude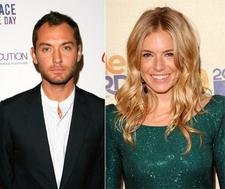 After Jude Law cheated on Sienna Miller with his kids' nanny, Sienna says she had to learn to put it in the past and not talk too much about it... at Jude's request!
"It's dangerous to bring this up," she tells Vogue of their relationship. "I talked about him in an interview not long ago, saying that I still love him, and he was like, 'Please stop talking about it.' "
But Sienna doesn't seem to have hard feelings against her ex still, and has learned from the experience.
Article continues below advertisement
"That was a very pivotal time in my life, and I'm happy saying that. It's a private moment when you get your heart broken for the first time, and that was the absolute antithesis of private," she confesses of living in the limelight. "It couldn't have been more public! I had people on the street being like, ' 'Ang in there, loov!' and all you want to do is crawl into a cave and weep for a week."
And although she's been in a few high-profile romances since then (one with Rhys Ifans and one with Balthazar Getty, who is married to estranged wife, Rosetta), Sienna claims that she's old-fashioned about who she spends time with.
"I've actually never been taken on a date in my whole life. I have never had a one-night stand. I'm a real relationship person — contrary to public perception," she says. "I'm either in one or I'm not. I get kind of emotionally involved very quickly, and I'm not going to spend time with someone unless I love them. But it's not hard for me to fall in love."