NEWS
Simon Cowell Dishes on Ellen, 'Idol' & Susan Boyle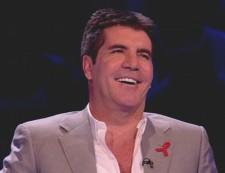 Simon Cowell is notorious for his tough critiques and brutal opinions on American Idol. So what does he think of new judge Ellen DeGeneres set to debut on the hit FOX show this January? "She's going to be very different than Paula," Simon says in an interview with Extra. "I think she's probably quite nervous... She's smart, but make no mistakes: this will be a very different kind of show than what you're used to."
Article continues below advertisement
Will Ellen sit next to Simon at the judges table as Paula did?
"Obviously, everyone wants to sit next to me," Simon tells Extra. "I am thinking about pulling names out of a hat!"
Simon also dishes about the Susan Boyle documentary he's producing.
"It's her story... so you hear it all in her words," Simon says. "It's fascinating seeing it through her eyes."
The American Idol judge refers to Susan's live as a "great underdog story... it's like a Hollywood movie. You couldn't have written this script better."