NEWS
Simon Cowell Pushes for 'Super Bowl' With 'X Factor', 'American Idol' and 'The Voice' Winners!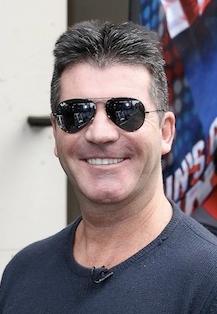 Simon Cowell and L.A. Reid chatted with reporters today in a conference call to promote the next season of The X Factor and the upcoming X Factor auditons. Auditions will open up on March 1 and audition cities will include Kansas City, Austin, Greensboro and San Francisco. Contestants can also submit an online audition at TheXFactorUSA.com.
Simon and L.A. discussed everything from their plans for replacing host Steve Jones and judges Nicole Scherzinger and Paula Abdul as well as the musical "Super Bowl" that Simon won't give up on. Check out the highlights:
Article continues below advertisement
Rumors of Celebrity Judges like Britney Spears:
Simon: "We will meet a number of people over the next few weeks. It's a big commitment. But I can't comment on any rumors."
L.A.: "The only thing you can count on is we will likely have two girls. That we can confirm."
Simon: "We are flattered that there could be interest with Britney. But other than, there is going to be twists and turns in the next few weeks, that we will announce."
Keeping the Sing-Off to Save Somebody: Simon: "The sing-off was intended to save somebody who we thought just had a bad night. It didn't always work out that way especially with Rachel Crow, and it had to be taken to the public. It adds a bit of drama to the results show. We call it the Jennifer Hudson save. If this had been on Idol that week, she would have remained in the competition." OK! GALLERY: MELANIE AMARO CELEBRATES HER X FACTOR VICTORY WITH FELLOW CONTESTANTS AND JUDGES Groups Can Win the Show, Look at One Direction: Simon: "One Direction (Winning group from X Factor UK) is going to literally explode in America. There is even a chance their album may debut at No 1. I think that will make the point that groups can do well in this competition. I think a group can win this show. We are trying to encourage better groups to audition. You will see better quality in the groups this year." On Rachel Crow Getting a TV And Record Deal: Simon: "The week that Rachel was kicked out, I generally believed in a weird way that this is the best thing that could have happened to her career. I said to her, 'We're going to make a commitment to you and then along came Nickolodeon.'" L.A.: "We always felt that she had what it takes to be a big star and she did have The X Factor."Success of One Direction: Simon: "One Direction we actually put together. They weren't ready as solo artists. The groups that year were terrible. We decided to experiment and put these fives guys together. I think One Direction will be huge this year. I hope it will attract for our show the next NSync, Backstreet Boys, Destiny's Child. It does separate us from the other two shows. Or TLC, we'd like that. OK! GALLERY: THE X FACTOR MENTORS AND FINALISTS PREPARE FOR THE GRAND FINALE There Will Be Whitney Houston Episode: L.A.: "I was going to recommend that we do a Whitney segment. The music is so amazing and so generational. And such a challenge for singers." Simon: "I have a feeling that they may do a Whitney show on The Voice or Idol before us. We have to do it in a different way. We will continue to pay tribute to Whitney. We love her, we love her songs." L.A.: "Whitney's music has stood the test of time and is rediscovered by generations." Plans For a Musical "Super Bowl" With Winners of All The Shows Competing: Simon: "I was disappointed with the reactions from the other two shows. I like the idea of the Super Finals. I thought it would be something different. We are still up for it; I don't know if its ever going to happen. It kind of felt it was going to be like a musical Super Bowl. Maybe we will have to compete on the Grammys going forward and on the charts. Nigel Lythgoe and Adam Levine commented, but we haven't heard from the networks. They are the ones who will have the ultimate decision." There Will Be Two Hosts Next Season: Simon: "It will be two hosts. You've got so much information you have to rely on. It's almost impossible for one person doing the hosting job. There is a more fun way of doing it with two people. I think you will see very different chemistry. I always wanted to have a boy and a girl, and I think it's going to happen now. I doubt they will be current hosts, they could come from a different background." Bigger Ratings For Season Two: Simon: "I shot my big mouth off as usual about having big ratings. I should have kept my mouth shut because the figures were good. What normally happens is the shows grow over the years. Same thing with The Voice who is doing much better in the second season. I absolutely expect the second season to do better." Ryan Seacrest Does It Brilliantly on Idol: Simon: "I think Ryan is brilliant at what he does and he is a really great negotiator. I think he will stay on the show. But you can't keep doing the same thing. The traditional host role on the show has to change. And I think it's important that we have more Americans on the show. I am sort of American because I have been here for 10 years." L.A.: "You can't talk yourself out of your job, we won't let you go." Are you excited for the next season of X Factor?