NEWS
Simon Cowell: Still Best Friends With Terri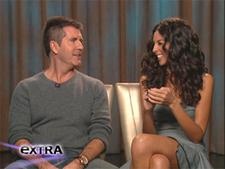 In some cases, it appears breaking up actually isn't hard to do!
American Idol judge Simon Cowell and his longtime girlfriend, actress Terri Seymour, might not be a couple anymore, but they say they're still friends – even if Simon jokes he was dumped.
"I didn't dump you," Terri tells her ex on Extra. "Just time. We had a great six years and we're the best of friends."
The sarcastic Idol judge agrees, saying, "I do call Terri, first, when I've got an issue or I'm moaning about something, or I want to bounce an idea off."
Article continues below advertisement
Maybe breaking up was good for these two, as Terri adds, "We do speak more now on the phone all the time. It's true."
As for those rumors that Simon bestowed quite the parting gift on Terri – 5 million pounds, or $9 million dollars – the tough Brit clears that bit of nonsense right up.
"That is actually not a true story," he says. "If anything I should be getting the money," he adds, laughing. "Rumors come around, just people read things, then they create a story. But no, there was no 5 million pounds, no."