NEWS
Simon Cowell Tying the Knot "Within the Next Ten Years"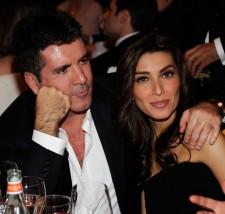 Simon Cowell may have met the love of his life but he's in no hurry to settle down — the music mogul will wed makeup artist Mezhgan Hussainy "within the next ten years".
Jay Leno asked the American Idol judge on the Tonight Show about the huge rock Mezhgan has taken to wearing, prompting Simon to admit, "Well, I do have somebody in my life now Jay, yes.
Article continues below advertisement
"And I kinda made a decision this year to make somebody happy so that's how I… it's called giving back," said Simon, equating getting engaged with donating to a cause. Let's hope Mezhgan doesn't feel like a charity case!
"I was asleep I think," he quipped, before getting serious and saying: "No, look, I bought her the ring in London."
OK! NEWS: PAULA ABDUL NOT JOINING DANCING WITH THE STARS
So when will he walk the Afghanistan-born beauty up the aisle? No sooner than "within the next 10 years" Simon said, joking that Jay can "do the flowers". But he couldn't say if the ceremony would take place in his native Britain or in the US.
Simon also addressed the rumors that he and new Idol judge Ellen DeGeneres aren't getting along.
OK! NEWS: SIMON COWELL IS ENGAGED TO MEZHGAN HUSSAINY
"There's a lot of stuff being written about it," he acknowledged, adding, "We get on fine. We don't see each other before the show, we do the show. Sometimes we agree, sometimes we disagree, but I did take it quite personally when she moved away from me, yes.
Article continues below advertisement
"No! I'm kidding, I'm kidding," he stressed.
OK! POLL: HOW DID ELLEN DEGENERES DO LIVE ON IDOL?
What about Paula? "I talk to her all the time," he said. "She was great fun and it is a different show without her; but, you know, something will happen with me and her at some point."
Does that mean we can expect to see Paula playing a role on Simon's new show, X Factor?
Meanwhile, Simon is still happy to leave the TV juggernaut at the end of this season: "I thought about it for a long time," he said.
"I was thinking for the last couple of years, you know, it was nine years, I had a fantastic time, best time in my life, but it just felt time to leave, hopefully on a high. So...I'm having a good time."