NEWS
Simon Cowell vs. Ellen DeGeneres on 'American Idol'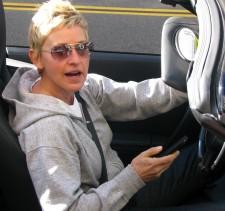 While we don't know anyone who could argue with dance-happy Ellen Degeneres, a new report has American Idol judges Simon Cowell and Ellen's working relationship starting off on the wrong foot.
Article continues below advertisement
But a source who was at the taping says Simon was late, but not that late. "He showed up exactly 14 minutes late," said one person who was there.
See what Avril Lavigne has to say about Simon Cowell
However, the show started taping without the British music mogul. "People were surprised the show started without Simon," said one observer.
Onlookers say the tension between Simon and Ellen escalated, alleging that when the cameras stopped recording they didn't speak to each other.
VIDEO: Simon Cowell discusses his life after-American Idol
"There's two camps on the show this season," said an Idol insider. "It's a lot more tense than previous seasons. It seems as if Ellen has decided to try to take control since Simon is on his way out and that's created problems."
What do you think about these fighting rumors?