NEWS
Simon Cowell Wants Paula Abdul to Join 'X Factor' & "Always Loved Working with Her"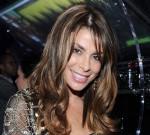 Although rumors have indicated Paula Abdul isliterallythisclose to inking a deal with Simon Cowell's show, The X Factor, one report has confirmed the former American Idol judge hasn't signed on the dotted line yet but will likely join team up with him yet again. Plus, the report has noted British singer Cheryl Cole will also join the star-studded panel!
OK! NEWS: SIMON COWELL SAYS MARIAH CAREY WILL BE INVOLVED IN SOME FORM ON X FACTOR
Article continues below advertisement
According to Deadline (via Entertainment Weekly), Fox hasn't officially announced the judges but Simon indicated he wants Paula Abdul sitting alongside him on the panel. He noted, "First of all, it's like casting a dinner party. You've got to have people on the panel you get on well with."
From the report it sounds like Simon is meeting with several people though, he's "always wanted Paula" to join the dinner party. He explained, "I missed her the second she left the show. Always loved working with her even though she can be a pain. And I've been consistent about this. I don't know what it is about her, but I've always clicked with her." He added, "You just have to get that chemistry, and she's right. I've never found anyone better than her. I think there's a good chance it will be her."
OK! NEWS: JESSICA SIMPSON CONFIRMS X FACTOR RUMORS AS POSSIBLE JUDGE
Although it sounds like negotiations with Paula haven't even begun and Cheryl's deal hasn't been sealed yet, assuming Simon gets what Simon wants, they'll join him on the panel along with Antonio "L.A." Reid. L.A. was formerly known as the chairman of Island Def Jam Music Group. He resigned from his job to join the panel on The X Factor. Simon indicated he "was my No. 1 choice to sit alongside me on the show."