NEWS
Simon Monjack's "World was Destroyed" by Brittany Murphy's Death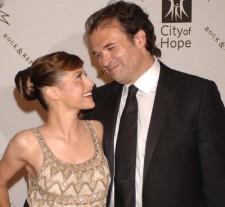 Brittany Murphy's husband Simon Monjack has spoken out about the loss of his actress wife. "My world was destroyed yesterday," Simon told Access Hollywood. He added that he was comforted by the outpouring of support from the Hollywood community. "I loved what Ashton Kutcher wrote on Twitter," Simon said despite not knowing his wife's former boyfriend.
"It was comforting to me," Simon told Access admitting he never met."I couldn't have said it better."
Article continues below advertisement
The Tweet by Brittany's Just Married co-star stated, "2day the world lost a little piece of sunshine. My deepest condolences go out 2 Brittany's family, her husband, & her amazing mother Sharon. see you on the other side kid."
Simon, who married Brittany in 2007, referred to Sunday morning — when Brittany was rushed to the hospital in cardiac arrest — as "a regular day."
"Her mother Sharon went into the bathroom because she had been in there a long time. Her mom screamed for me and I ran. Then called 911," he said.
As for reports that Brittany was being treated for flu-like symptoms at the time of her death, Simon said it was nothing serious, and she was being treated by a doctor.
"She had laryngitis," he said. "She had been tired at the end of the year. She had made a couple movies."
Simon also tried to clear the air about negative influences that could have jeopardized his wife's health and well-being.
"I don't know why anyone would think that," he said. "She found love. We found love. Brittany didn't get to where Brittany was with anyone controlling her… Brittany was Brittany."
At approximately 8:00 am Sunday morning, emergency services were called to Brittany and Simon's L.A. home after she went into an apparent cardiac arrest. Despite multiple attempts, Brittany could not be revived and was pronounced dead upon arrival to Cedars-Sinai Medical Center.
The LAPD is currently undergoing an investigation on the 8 mile actress's sudden and tragic death. Foul play has been dismissed, but a possible drug overdose is still pending investigation.