NEWS
Simon Says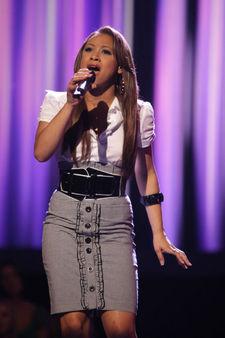 The 1970s must appeal more to Simon Cowell than the '60s, at least as far as the guys were concerned. The acidic judge didn't tear into too many performances when the men took the stage, although he certainly didn't hide his feelings about the ones he didn't like.
Simon thought Luke Menard's "Killer Queen" was a insult to Freddie Mercury's, so he dished out some of his own. "I think it was a mistake and I'll tell you why: you are always going to be judged by the original." And when Simon starts a sentence with, "The singer of that song had charisma and personality," you know what's coming next. "And you didn't."
Article continues below advertisement
Simon also didn't seem to think Jason Yeager's effort was any better than your boozy uncle's slurred rendition of "Happy Birthday" at a family event. "That horrific ending—I don't know what you were doing there. It was like you were drunk at a party," he said.
Wait. Only two lethal put-downs? For Simon Cowell, that's a love fest. But if the girls were lulled into a false sense of security, they were in for a shock. It only meant he had more ammo left.
Now girls, if you are going to take on a classic '70s track, you'd better do it right. Simon wasn't in the mood to hear any mediocre covers, and he won't stand for boring style on stage.
Syeesha took her chances when she switched up the hit "Me and Mrs Jones" to make it "Me and Mr Jones," but she wasn't getting any marks for originality. "It was probably a silly thing to have done that," Simon said. "It is not a song that is designed for your voice anyway, so you can't really do that big note at the end."
Article continues below advertisement
As far as the judge was concerned, Ramiele might as well not have left the house, since Thelma Houston's "Don't Leave Me This Way" left him wanting. "I have heard it too many times at ghastly weddings," he sniffed.
Just because he has a point about Amanda Overmyer's 'do, it doesn't mean this didn't sting: "Everything felt contrived, from what you wear, the terrible hair, the song. I couldn't wait for it to finish." He kept his focus on fashion for Alaina, claiming, "I like you. My problem is, it's almost as if your grandma prepared you for this audition; told you what to wear, how to dress, what to sing."
He was definitely saving his worst for last though. For his grand finale Asia'h Epperson got the hammering of the season for her version of "All By Myself."
"It is one of the diva songs of all time and you have got to be one heck of a singer to pull that off," he said, "and unfortunately you are not." And he wasn't done there. "You nearly did it, but you're not that good a singer. You shouldn't have attempted that song. The song was too big for you and in my opinion, it showed you up."