NEWS
Simon Says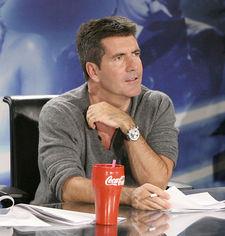 With only six contestants left, Simon is running out of opportunities to be mean.
So some poor contestant has to get slammed with all that pent-up crabbiness. Bad luck for Jason Castro, whose performance got called "miserable", "forced", and "a struggle" almost in the same breath.
"It felt to me and I'm sure to you like the longest two minutes of your life," Simon started. "The reality was it came over as a young guy being forced by your mom and dad to sing at a wedding you didn't want to sing at," he said.
Article continues below advertisement
"It was a struggle. You were miserable throughout, I was miserable. It wasn't you."
And trust Simon to actually enjoy the tortuous moment when Brooke White forgot her lyrics.
"This is why I love live TV," he beamed. "It was so dramatic from the beginning!"
"The trouble is, it threw you and at that point you were so tense your voice was straining and it became quite uncomfortable," he said.
"I think you are going to be very disappointed when you watch this back."
Even though the other judges drooled over the Two Davids' performances, Simon wasn't going to miss a chance to take a swipe when he saw one.
"I thought it was pleasant," he told David Archuleta, but added, "it's one of your weakest performances over the live shows."
Meanwhile, David Cook got told off for being too good. "This is the not the side of you I like," Simon said. "I much prefer the more raw side. It was too rounded off but you made the most of the song you were given."