NEWS
Simon's Judge-Switch Trick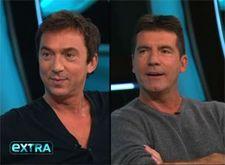 If something doesn't seem quite right about American Idol tomorrow night, it's probably that Simon Cowell has mysteriously turned into Bruno Tonioli.
The Idol judge and the Dancing With The Stars judge say they have been secretly plotting to switch places without telling anyone.
Cowell told Extra host (and his girlfriend) Terri Seymour: "We'd swap judges. He'd comes on American Idol. I'd go on Dancing with the Stars without any explanation."
Article continues below advertisement
But fellow Brit Tonioli has spotted a small flaw in the plan. "You know nothing about dancing!" he told Simon.
"Well, he doesn't know anything about singing," countered Simon on the show to be aired tonight.
"I could make it up. You do," Tonioli shot back.
But according to Bruno, it's not just the ability to tell a rumba from a merengue that separates these two Brits.
"The difference is that I drive a rental and you drive a yacht!" he told Simon, a friend on more than 20 years.