NEWS
Sinèad O'Connor Ends Marriage to Barry Herridge Again & Blames Irish Media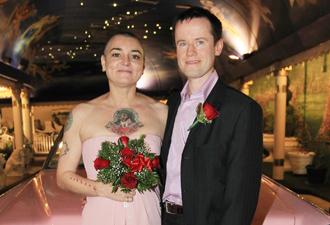 Sinèad O'Connor announced on her official website today that she and her husband Barry Herridge have decided to end their marriage... for a second time. The 45-year-old singer blames the Irish media for causing the end of her marriage.
OK! GALLERY: SINEAD O'CONNOR CELEBRATES 45TH BIRTHDAY BY SAYING "I DO" IN VEGAS!
"Certain sections of our media are pure evil," Sinèad wrote on her website. "These people, along with others caused enormous damage deliberately and maliciously to my innocent flower of a husband, purely because he was with me. And so his association with me became something very bad for his life. And slowly since we were married I became very ill as result of what was done to my husband and i was unable to cope. And became depressed.."
Article continues below advertisement
Sinèad and Barry married in a Las Vegas, but then revealed 18 days later they were ending it. However, later that same week, she announced they had rekindled their romance.
Now, another week has gone by, and it seems they have had a change of heart.
"The behaviour of one particular paper resulted in very serious damage to my husband and myself personally and consequently made the marriage untenable so that it is now over and I hope the media will kindly leave the poor man alone to get on with his life," she explained in her new post today. "I will never again associate myself romantically with anyone as I could not bear to see these things done again to someone I love."
OK! NEWS: SINEAD O'CONNOR GETS BACK TOGETHER WITH HUSBAND BARRY HERRIDGE DAYS AFTER ANNOUNCING SPLIT
How is Sinèad coping with the end of her marriage... the second time around?
"I am now temporarily back on meds but am assured by psychiatrist I am not bi polar and do not need to be on meds for longer than a few months just to lift me out of what depths I was dragged down to since the mis-treatment of my husband and therefore destruction of our marriage began," she revealed. "So I will be fine again within days."