NEWS
Sinéad O'Connor Gets Back Together With Husband Barry Herridge Days After Announcing Split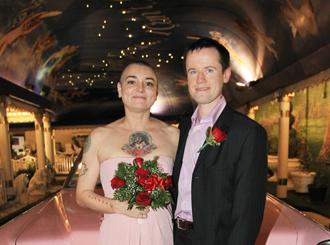 And by "gets back together," we mean Sinéad O'Connor and Barry Herridge are "boyfriend and girlfriend" again.
The Irish singer, who just this past week revealed that she was splitting with Barry after 18 days of marriage, posted some bizzare, TMI Tweets about her and her hubby's reconciliation.
OK! GALLERY: SINÉAD O'CONNOR CELEBRATES 45TH BIRTHDAY BY TYING THE KNOT IN VEGAS
"Guess whohad a mad love making affair with her own husband last night?" Sinéad Tweeted, adding, "Yay!!! we decided to be boyfriend and girlfriend again an stay married but we did rush so we gonna return to b friend g friend... an be sickenly happy an go counsellin an move in in like a yr like regular people.. but stay married an we all in love an f*** every other."
Article continues below advertisement
So if you're having trouble understanding, apparently, Sinéad and Barry are back together but are going to live separately as boyfriend and girlfriend for a year, though they are in fact legally married. Oh, and they're going to couples counseling.
OK! NEWS: SINEAD O'CONNOR ANNOUNCES SPLIT FROM HUSBAND AFTER 18 DAYS OF MARRIAGE
And if you're judging her for rekindling her romance, Sinéad doesn't care! "motherf**ker who dont like it.. so me all happy!! me love me hubby.. he love me..." she Tweeted. "f**k who no like it.. God is good!" Obviously, "Nothing Compares 2 U," Barry!
What do you think about Sinéad getting back with Barry? Will it last?