NEWS
Single Celebs Face 'Panic Years'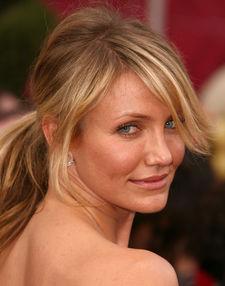 Article continues below advertisement
"I assert that Hollywood's elite class of single women are actually closeted panickers – and are not enjoying a post-nuptial nirvana, like they may claim," she tells me. "When you think about hot single celebs like Cameron Diaz, Lucy Liu, Eva Mendes and Penelope Cruz, you don't think 'self-pitying spinster,' but it is hard for the top echelon of women to stay above the fray and above the ridicule for staying single. Sizzling but single celebs like Cameron aren't impervious to the pangs of matrimonial angst that we mere mortals face. In fact, they're secretly just as panicked as the rest of us."
How can Jennifer, 39, change her game plan?
"Jennifer majorly misjudged Brad Pitt, who is this perfect-looking specimen with an imperfect roving eye," she tells me. "But now she has clearly started making more sound decisions in her dating life, choosing her suitors based on their codes of behavior, which is something every woman who is looking for a serious and stable relationship should do."
What's the deal with Cameron, 35?
Article continues below advertisement
"She falls into the same trap, over and over, but fails to recognize what her dating missteps actually are," Doree says. "She continues to date these seemingly non-committal, younger men who are simply not interested in settling down. It's hard for a guy to take you seriously if you don't even take yourself seriously, and in her case, I don't think she acquits herself as she should – as a secure, confident, successful woman. Her self-deprecation and self-professed 'fun-lovingness' certainly diminish any chances of a man taking her seriously for marriage."
MORE ON:
Red Carpet Confidential
Twenty-seven-year-old Jessica's dad meddles in her relationships while her younger sister Ashlee, 23, is deep in the throes of romantic bliss with her Fall Out Boy boyfriend Pete Wentz.
"The 'Panic by Proxy' phenomenon is a debilitating one that zaps the single girl's self-esteem for good," Doree says. "When parents meddle in your potential matrimony – however well-intentioned – their efforts almost always backfire, causing irrevocable damage to the romance and to the fractured family dynamic. Comparing siblings – especially sisters who are already competitive – is the surefire way to create resentment and animosity, further driving home those feelings of panic that even the most together girl can't easily shake off."
Article continues below advertisement
What's the most surprising thing Doree learned in researching The Panic Years?
"What's most alarming is the number of seemingly smart, sexy, together women whose self-esteem is totally shattered because they're still single. We put such pressure on ourselves to marry that any other life achievement of ours is comparatively marginalized. We all too often consider ourselves failures if we're not married off by a certain age, even though we excel in so many areas of life. The panic years don't discriminate – whether you're in Haverford or Hollywood, every woman has a little panic inside her."