NEWS
Siriano: Tim and Anderson Would Be "Best Couple Ever"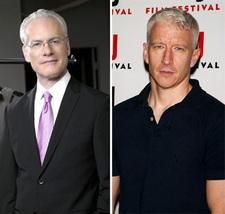 You may remember when, a couple of weeks ago, OK! exclusively revealed that Tim Gunn has the hots for Anderson Cooper.
Well, here's the latest news on our new dream couple.
Christian Siriano, the designer who won the fourth season of Tim's Project Runway show, says that Tim would make a great couple with the 360° host.
"It would be the best relationship ever," Christian told OK! at the 20th annual GLAAD media awards ceremony in New York. "Because they're so different," he added.
MORE ON:
christian siriano
Article continues below advertisement
"If you know Tim, he's so shy and timid. I don't know, it would be funny."
And how about Christian's own celebrity crush?
"Other than myself? Oh my gosh, that's so hard... Lindsay Lohan."
We demand for there to be a double date with Tim, Anderson, Christian and Linday -- immediately!
By Oliver Coleman