NEWS
Sister Wives Simmer Over Kody & Robyn's Wedding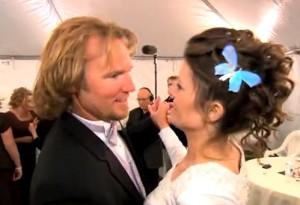 In the finale episodes of Sister Wives, polygamist Kody Brown marries his fourth wife, Robyn, while his first three wives help with the preparations. But with all the attention on Kody and his newest wife, should his other wives be upset at all?
IN THIS ISSUE OF OK!: SISTER WIVES AT WAR!
As OK! revealed last week, there had been some tension in the family as Kody focused on Robyn and their wedding event.
Article continues below advertisement
"Kody's been dividing his time fairly between the first three wives for 16 years and now he's spending whole weekends with Robyn," a close family friend tells OK!. "They are hurting. First wife Meri most of all. She's a wreck."
OK! NEWS: TLC CONFIRMS SISTER WIVES STAR KODY BROWN'S MARRIAGE TO FOURTH WIFE
And Meri's not the only one. Wife No. 3 Christine also "freaked out" about the new couple when she learned that Kody and Robyn had kissed before their wedding, a rule he had not broken with his first three wives.
"It was devastating," Christine fumed. "We didn't kiss until over the altar because I didn't feel right about kissing a married man."
What do you think — are the other wives right to be hurt by Kody's behavior? Comment below and get your name in the magazine!
FOR MORE ON THE SISTER WIVES, PICK UP THE NEW ISSUE OF OK! — ON SALE EVERYWHERE NOW!