NEWS
The Situation Gets Wifed Up and Deena Gets out of Jail: 'Jersey Shore' Recap: Season 6, Episode 4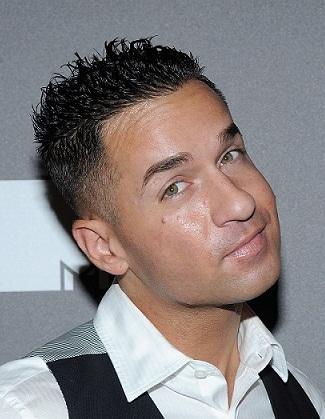 (Note: Apparently, this is actually episode 6. Thank you, Jersey Shore fans, for the alert. Also, this is great news because it means we have done more work than we thought.)
The overall of theme of this episode of Jersey Shore is relationships. There is a relationship on the rocks, between Jenni "JWoww" Farley and Roger Mathews, and two relationships blossoming, those between Mike "The Situation" Sorrentino and Paula, and between Deena Cortese and the police force of Seaside Heights, N.J. We open with scenes from last week showing D getting arrested for dancing drunkenly in the streets. While Deena's carted off to jail, Sammi "Sweetheart" Giancola worries about her friend's state of mind and tells boyfriend Ronnie Ortiz-Magro that she wants to go get her at the police station ASAP.
Article continues below advertisement
"She's going to the drunk tank. You get drunk in public, you get dragged to the drunk tank, that's what happens," Ronnie explains to a near-tears Sammi. "What are you crying for? Everyone goes to the drunk tank."
Um. No, Ronnie. We feel we can speak for everyone when we say that everyone does not, in fact, go to the drunk tank. We're pleased to see Sammi thinks this statement is as ridiculous as we do. Ronnie doesn't seem to notice.
Article continues below advertisement
While all this is happening, Mike and Paul "DJ Pauly D" DelVecchio and Vinny Guadagnino head to the tanning salon where Paula works so Mike can thank her for the chocolate-covered fruit she sent to the house after they smushed in his twin bed. Mike explains that he's been seeing Paula for four summers now, and he's thinking it might be time to "make it official." Seriously, Mike dating a girl who turns on tanning beds for people is like Deena dating a guy who makes meatballs at Rivoli's. It just makes sense. Mike and Paula make dinner plans for Monday night.
After this, they head to the sporting goods store to buy some toys to play with after Sunday Night Dinner. They buy a bunch of weird crap, including some kind of punching mannequin. While we don't doubt that it will be fun to watch the gang trip over these things when they're drunk, we miss the days when the Jersey Shore kids were too poor to afford expensive toys. Mike also buys a "sick" stroller for Nicole "Snooki" Polizzi; he's still campaigning for her forgiveness. We already know this won't work.
Article continues below advertisement
Snooki, JWoww, Ronnie and Sammi head to bail Deena out of jail, but find that Deena's parents are already there. Ronnie marvels over the fact that she called her parents rather than her roommates to get her out, and joked during Jersey Shore: After-Hours that she did so because she didn't know the number for the shore house. (Hey, that was funny, Ronnie!) Sammi tells us that Deena's parents are going to kill her, but their temperament is an embarrassment to Italians everywhere.
Article continues below advertisement
Now, it's time for the moment we have all been waiting for — or, according to Mike, the moment we have all been dreading — when The Situation takes himself off the market. Yeah. We'll just let him keep thinking that hearts are breaking across America. He seems to enjoy it. Mike stupidly invites all of his roommates to join him on his romantic evening with Paula. Vinny refers to it as a "monumental moment in history." Vinny is the one Jersey Shore cast member who actually knows about significant historical events, so this worries us.
Mike chooses Rivoli's to ask Paula to "make it official" because it is the only restaurant that will let them film the most romantic spot DTS. As we already know, he wears a shirt bearing the words "Let's Make it Official" for the occasion. Paula's mouth drops open. Mike thinks this is because she's so happy and impressed by his T-shirt idea, but we know better. As Mike noted, he has been seeing Paula for FOUR SUMMERS. That's FOUR YEARS, bro. This chick already thinks you're official. Or maybe she just realized her neon manicure is an assault on our eyes.
Article continues below advertisement
Finally, JWoww decides to call Roger. They have not spoken for two days, and truthfully, we've been admiring her restraint. The whole thing is very sad, and we feel bad for JWoww as she stresses about the status of her relationship and love that her girlfriends rally around her for support. When she finally reaches Roger, he is still angry and suggests she enjoy her summer and do her "own thing," which prompts JWoww to ask if he's saying they're over. The show is going to make us wait until next week to find out how he answered the question, but since we all know JWoww and Roger are engaged, whatever he says is inconsequential. Also, we noticed that she lied and told him she had a fracture, even though by this point she knows she doesn't. Oh well. We would have lied, too.
Next week, Snooki tries to cook, Vinny and Pauly mess with Deena's pictures and Deena leaves the house, because apparently someone has to leave the house every season.
What did you guys think of this episode? More importantly, what would you think if you were dating a guy who thought asking you out via T-shirt was a nifty idea?
RELATED NEWS
OK! VIDEO: DEENA FROM JERSEY SHORE ON SNOOKI'S "LITTLE PEANUT" LORENZO!