NEWS
The Situation Gives Tips For "Unbelievable" Abs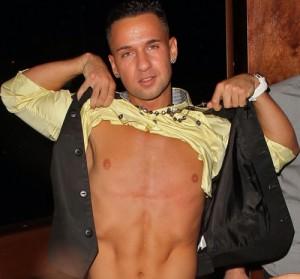 The gym in GTL (that's gym, tan, laundry) is most important for Mike "The Situation" Sorrentino, who takes OK!'s What I Ate Today interview in the issue on newsstands now.
Moments before we meet at GNC in NYC, the buff Jersey Shore star sneaks a peek in the mirror to admire his most famous assets. Now he reveals exactly how he gets his world-famous abs.
"I've always had them, and it was just a technique of flexing them," he tells me during a NoX Edge event. "They look unbelievable."
Article continues below advertisement
The Situation explains his regimen.
"I work out five to six days a week," he says. "I do the treadmill or cardio or running. Also five or six days a week, at least 30-40 minutes, I do abs. I do lower back every other day. I work out one body part once per week – not twice per week - so I do chest once a week, back once a week, thighs and tris once a week, shoulders once a week, legs once a week, cardio 5-6 days a week, forty minutes, back and lower abs every other day."
He adds, "I work out very, very hard, very, very intensely. I do lots of supersets and drop sets."
Hmm, what role do sit-ups play in shaping his torso?
"I do a number of core exercises to go with my routine," he says. "I do leg lifts, a lot of lower and abdomen exercises because the lower and the 'V' is the hardest part to get. You can do ball crunches. There are so many different ab exercises."
Strict diet rules also play a role.
Article continues below advertisement
"No carbs after six, six small meals per day, no sugars, cakes, candies, snacks, extra salt or extra sugar," he says. "No sodas – the only liquid I would drink would be water, and lots of water throughout the day. The meals are high protein and low carbs, clean eating, no extra mustard, sauces, salad dressing or anything like that. That would also include clean eating as in chicken, steak and fish."
Surprisingly, cutting out sugar wasn't a challenge for The Situation.
"You just cut it out," he says.
Self-promotion time!
"The Situation will be coming out with The Situation workout video shortly that will explain all the diet tips and exercises in detail with demonstration and instruction," he says. "That's the recipe for The Situation."
Here's my pic with The Situation:
For Mike "The Situation" Sorrentino's What I Ate Today interview, pick up the OK! on newsstands now. The cover line is "Jen's Stealing Brad Back!"