NEWS
The Situation & Pauly D Help Justin Bieber Promote 'Never Say Never'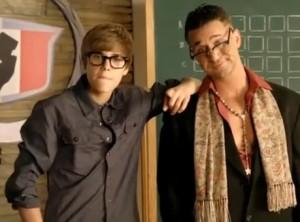 As if there's any chance Justin Bieber's new movie Never Say Never won't pull in enough fans in theaters, the Biebs has recruited the help from Jersey Shore stars The Situation and Pauly D to help him promote it!
OK! NEWS: JUSTIN BIEBER OUT "LIKES" HIMSELF ON LETTERMAN
Jersey Shore's The Situation shares his take on Justin's film in his "Guide to Pimpin."
"How are you doing today class? I'm here to tell about pimpin," he says (via MTV News). "Justin Bieber's movie plus Valentine's Day, what does that equal to? Situation zone."
Article continues below advertisement
The "Situation zone" meaning the "back of the movie theater!"
"And that boys and girls, is a situation," Justin adds. "You just graduated."
OK! NEWS: PAULY D ON JUSTIN BIEBER — "I'M A BELIEBER!"
Pauly D took a different approach to his promo.
"I haven't been able to sleep. These thoughts keep running through my mind, that voice, that talent," Pauly D says. "This guy would kill it at the Shore."
"My hair won't even stand up anymore and I can't stop buying purple pants," he adds. "I think I've got Bieber Fever. I've got to see this movie."
"It's gonna be okay, Pauly,"Justin says. "Think of me as your wingman. Here's tickets to my movie Never Say Never."
Watch the promos below!
And there are more promos to come with Kim Kardashian and Khloé Kardashian Odom and rumored ads featuring Diddy, Jay Leno, Julianne Hough and Angelina Jolie.
Never Say Never hits theaters Feb. 11!