NEWS
SJP: Working on SATC Film Was "Heavenly"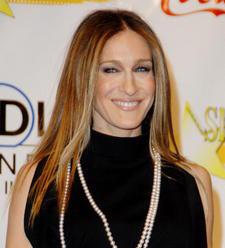 It was a long work in progress to get production on the big-screen adaptation of Sex and the City rolling, but once filming got underway, everything was "heavenly," Sarah Jessica Parker says.
"Honestly, the best part was just being there on the set the first day, being together," she tells OK!. "It took a lot to get this movie back up and running, pretty much the last year and a half of my life... It was really kind of heavenly to be there again."
Article continues below advertisement
Knowing full well how difficult it was to recruit everyone who worked on the show back again, the 42-year-old feels blessed that everything finally came together in the end.
"It's just generally things don't work out like this," she admits. "To toggle it all together and to find ourselves on the set, playing these women again, surrounded by a lot of crew members that have been there from the beginning and surrounded on the peripheral by hundreds of women and curious paparazzi."
MORE ON:
Sarah Jessica Parker
The best part of the whole production? Filming during late summer and early fall, which SJP calls "the most romantic time" in New York City.
"It was a thrill. The whole experience from the first day to the last."
Sex and the City: The Movie opens May 30.