NEWS
'Skating With the Stars' Premiere: Rebecca Budig Takes the Lead; Bethenny Frankel Comes in Second to Last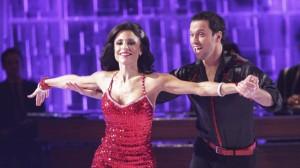 When one show comes to a close, another one is always ready to begin. And, so was the case on last night's first finale of two of Dancing With the Stars followed by the first episode ever of ABC's Skating with the Stars.
Bravo reality star Bethenny Frankel took the stage with pride, overcoming her fear of dizziness, but received a combined score for technical and artistic expression of only 29 out of 60.
Article continues below advertisement
Right behind her, in last place, Vince Neal took the ice by storm and didn't fall down once, as he did in rehearsals. The rocker went home with a combined score of 28 for his effort.
"Very harsh!" Vince told reporters of the judges after the show, but admitted that he is happy he is doing this. "I like to kind of push myself and try new things. Hey, I am not getting any younger!"
And just like DWTS, many of the contestants already feel a change in their bodies.
"I have lost weight. It's a really good workout," Vince gushed, but says, "I still eat crap!"
Sonny with a Chance's Brandon Mychal Smith, who came in with a 36, agreed with Vince about feeling the burn.
"I am very sore. I am ready to take off these skate's right now. These feet probably look like my grandfather's feet, swollen!" Brandon told OK! after his standing ovation.
Article continues below advertisement
On the top of the charts for the opening evening, All My Children's Rebecca Budig went home with the top score of 45.
"It is really unexpected!" Rebecca told reporters on Monday night.
Sean Young and Jonny Moseley also came in with decent scores, putting them in the middle of the leader board.
Here are the final scores of the evening:
Rebecca Budig & Fred Palascak - 45
Jonny Moseley & Brooke Castile - 40
Brandon Mychal Smith & Keauna McLaughlin – 36
Sean Young & Denis Petukhov - 34
Bethenny Frankel & Ethan Burgess - 29
Vince Neil & Jennifer Wester - 28
Tune in on Monday to see who will turn in their skating shoes and go home on ABC's Skating with the Stars, judged by Johnny Weir, Dick Button, and Laurie Ann Gibson and hosted by Vernon Kay and Tanith Belbin.