NEWS
Slim-Fast Shady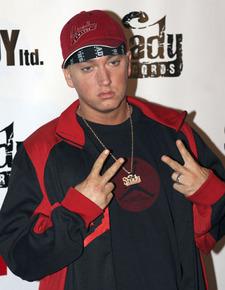 Slim Shady needs a slim down, and it sounds like he may get one. After reports surfaced of Eminem, 35, tipping the scales at 200 pounds and experiencing a health scare including severe pneumonia and a heart condition, the weight-loss gurus at Slim-Fast have offered their help in trimming Slim.
"Slim-Fast is a program that can really work for someone like Eminem; it's a doable and flexible approach," a spokesperson tells OK!. "Slim-fast would love to offer Eminem product and assistance to help him become a potential S-F success story."
Article continues below advertisement
So what would an Eminem designed Slim-Fast plan look like? OK! has that answer for you, straight from Slim-Fast itself!
This plan is designed to meet Eminem's nutritional needs by providing a balance of lean proteins, complex carbohydrates and healthy fats to help control hunger and keep him satisfied while promoting a healthy weight loss of 1-2 lbs. a week and a consumption of 1,900 calories a day. The plan also recommends 30 minutes or more of moderate physical activity most days of the week.
Here's the plan:
Breakfast: Slim·Fast Optima Cappuccino Delight shake; plus a banana
Snack: Slim·Fast Optima Blueberry Muffin Bar and an apple or pear
Lunch: Combine a Slim·Fast Optima French Vanilla shake with ½ roast beef sandwich + piece of fruit
Snack: ¼ cup of hummus with 1 cup baby carrots and 2 sticks of low-fat string cheese
Dinner: Garden salad with fat-free dressing; barbequed chicken with veggies and wild rice; strawberries with 1/2 cup fat-free frozen yogurt
Snack: Mini bag of popcorn
Drinks: 8+ glasses of calorie free beverages, preferably water
Got that, not so Slim Shady?