NEWS
Slumdog Dad Nabbed by Police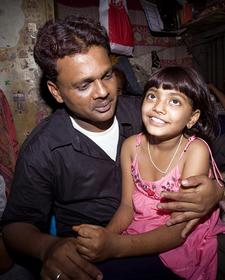 Following an alleged attempt to sell his 9-year-old daughter, Slumdog Millionaire star Rubina Ali, to a Dubai sheikh for nearly $300,000, Rafiq Qureshi has been arrested by Indian police.
Britain's The Sun is reporting that Rubina's mother, Khurshida, is the one who made the call to police, saying she learned of the "adoption" from her eldest daughter and immediately filed a complaint.
"My elder daughter had informed me… I did not believe he would actually go through with it," said Khurshida, who left her husband in 2001.
Article continues below advertisement
The sheikh who nearly bought Rubina reportedly contacted Qureshi after learning of Slumdog's Oscar wins back in February. His wife was no longer able to have children and wanted to adopt Rubina as his own. Qureshi is not budging from his claim that he refused the sheikh's generous offer for the young girl.
"I politely said Rubina is happy with me and wanted to leave. After this they made an offer of money in English which I did not understand," explained her father.
"Then they requested me to leave her there overnight and take her in the morning. I refused and took Rubina away with me."
There is reportedly video of the undercover operation in which reporters met with Qureshi and expressed interest in illegally adopting the Slumdog star.