NEWS
Slumdog is Top Dog at Oscars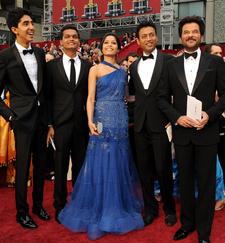 Go back to the beginning of fall and look forward at the movies still to come out — two directed by Oscar fave Clint Eastwood, another by the Academy's beloved Ron Howard, a Sean Penn-starring biopic that had Oscar written all over it; not to mention Brad Pitt's time-spanning, age-reversing bit of awards bait. And then there's this little film from England and India about a poor kid on a TV game show — not exactly the one you'd pick to win in February.
Article continues below advertisement
Fast forward to Sunday night when the Academy honored that little film, Slumdog Millionaire with eight awards, including Best Picture, Director and Adapted Screenplay.
The film also picked up trophies for Cinematography, Editing, Sound Mixing and Editing, and Original Song, where it had two of the three nominated songs.
It was also a big night for Sean Penn and Milk, as the film won for Original Screenplay and its star surprised everyone by upsetting Mickey Rourke, who had been the frontrunner to win for his career-reviving role in The Wrestler.
"You commie homo-loving sons of guns," Penn joked while accepting the award. He even admitted that sometimes his personal life overshadows his professional achievements. "I do know how hard I make it to appreciate me," he said with a wink.
Meanwhile, it was the fulfillment of years of being a runner-up for <a href="https://okmagazine.com/search/winslet" target="_blank"><strong>Kate Winslet</strong></a>, who finally won an Oscar for her role The Reader.
Article continues below advertisement
It was also a first win for <a href="https://okmagazine.com/search/cruz" target="_blank"><strong>Penélope Cruz</strong></a>, who won yet another award for her work in the Woody Allen-directed Vicky Cristina Barcelona.
"I'm going to go call Woody right now," she said backstage. "He sent me flowers last week when I went to BAFTA, and we've been speaking sometimes during the week. But I call Woody sometimes to just say hello and I adore him. I think he's so funny and charming and so peculiar and unique. And of course, today I have to talk to Woody to thank him."
The complete list of Monday's winners:
Best Picture
Slumdog Millionaire
Actor
Sean Penn/Milk
Actress
Kate Winslet/The Reader
Director
Danny Boyle/Slumdog Millionaire
Supporting Actor
Heath Ledger/The Dark Knight
Supporting Actress
Penélope Cruz/Vicky Cristina Barcelona
Original Screenplay
Milk
Adapted Screenplay
Slumdog Millionaire
Art Direction
The Curious Case of Benjamin Button
Costume Design
The Duchess
Makeup
Article continues below advertisement
The Curious Case of Benjamin Button
Cinematography
Slumdog Millionaire
Visual Effects
The Curious Case of Benjamin Button
Sound Editing
The Dark Knight
Sound Mixing
Slumdog Millionaire
Editing
Slumdog Millionaire
Original Score
Slumdog Millionaire
Original Song
"Jai Ho"/ Slumdog Millionaire
Foreign Film
Departures (Japan)
Documentary Feature
Man on Wire
Documentary Short Subject
Smile Pinki
Animated Feature
Wall-E
Animated Short Subject
La Maison en petits cubes
Live Action Short
Spielzeugland