NEWS
Slumdog is Top Dog at SAG Awards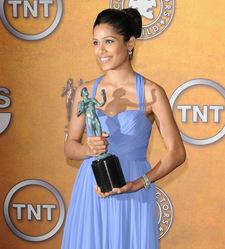 Just like its main character, it's looking more and more like Slumdog Millionaire could shock everyone who only weeks ago scoffed that a small, British-produced film set in India stood no chance of winning the Best Picture Oscar.
The latest triumph for the Danny Boyle-directed film came on Sunday night, when the cast of the film took home the top prize at the Screen Actor's Guild Awards. This comes hot on the heels of Slumdog's Best Picture win at the Golden Globes.
Article continues below advertisement
Some had written off the Globes win as a fluke, pointing out that those awards are handed out by a very small group of members of the Hollywood Foreign Press. But the SAG victory shows that Slumdog is deserving of the Oscar buzz.
Meanwhile, the Oscar heat surrounding the Brad Pitt special-effects bonanza The Curious Case of Benjamin Button has reduced to a simmer, with Milk star Sean Penn showing he can give Brad and Golden Globe winner Mickey Rourke a run for their money in the Best Actor category with a SAG win.
Awards-magnet Meryl Streep was the big winner in the Best Actress competition for her role in Doubt, but considering Kate Winslet won another Supporting Actress trophy for her part in The Reader — and considering that Kate and Meryl will go face-to-face come Oscar time — that race is still to be sorted out.
Heath Ledger was recognized by yet another awards ceremony for his indelible portrayal of The Joker in The Dark Knight, leaving no doubt that he'll be similarly honored at the Academy Awards on Feb. 22.
Heath's co-star in the film, Gary Oldman accepted the award on the late actor's behalf. "He was an extraordinary young man with an extraordinary talent," Gary said when accepting the honor. "It is wonderful that you have acknowledged that and honored that talent tonight."