NEWS
'Smash' Recap, 'Let's Be Bad': Being Bad Looks So, So Good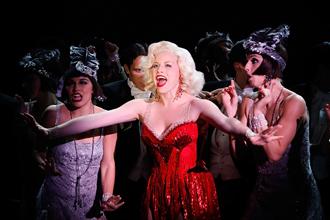 Last night's Smash opened with Eileen (Anjelica Huston) barking orders at her assistant on the phone. He informs her that her soon-to-be ex-husband Jerry made him an offer he could not refuse, and he no longer works for her. Did that offer include a new convertible? Because we're not sure why he was seen cruising along with the top down otherwise. Or why Eileen had nothing to do for the rest of the episode.
Article continues below advertisement
At rehearsal, Michael (Will Chase) tells Julia (Debra Messing) that he has some questions about Joe DiMaggio, and he'd like to address them after rehearsal. Normally, we would yell, "That's what rehearsal is for, buddy!" but the book and script for Marilyn is far from complete, so we suppose this is a reasonable request. Oh, husband Frank is stuck somewhere at a teaching seminar. Uh, oh.
Tom (Christian Borle) goes out to dinner with John (Neal Bledsoe), who is in full-honesty mode. He says he became a lawyer because he didn't know what else to do. He also says, in our favorite line of the night, "So are we never sleeping together? Are we just friends?" Right then, Leo (Emory Cohen) calls Tom and needs to be picked up from the police station. Leo, as we know, is unreasonably upset with Julia and Frank for never giving him the baby sister he wanted, and was smoking his sorrows away in Central Park (we don't believe Leo when he says only his friend was smoking). John gets Leo out of it. Tom is impressed, but we're pretty sure he could have gotten Leo out of it if the police station had a piano. Later on, Tom and his date sleep together and hilariously tell each other it was the worst sex they ever had.
Meanwhile, Julia and Michael are at a diner, because nothing romantic ever begins at a diner. Nice try, guys. Michael says he is concerned that the Joe DiMaggio character is going to "come off like a complete tool." Self-reflection is not one of his assets.
OK! NEWS: KATHARINE MCPHEE PROMOTES NEW SERIES SMASH ON THE VOICE
Sigh. Let's check in with Karen (Katharine McPhee). She meets up with Dev (Raza Jaffrey), who is talking to reporter RJ, someone Karen always assumed was a fat guy named Ralph Johnson. Alas, RJ is a young, hot Iranian girl. Dev and RJ commiserate over having difficult jobs and difficult-to-pronounce names. Karen says RJ seems "crafty." Please, Karen, don't go all crazy, possessive girlfriend on us!
Article continues below advertisement
At rehearsal the next day (we assume), the group works on "Let's Be Bad." Derek (Jack Davenport) tells Ivy (Megan Hilty) she is not getting the vibrato on the note the way Marilyn did and asks Karen to "show her how it's done." Ivy gives Karen a death look, and the ensemble is (appropriately) collectively frightened. Karen sings "Happy Birthday."
Derek tells them to work together, totally belittling Ivy in the process. When they are alone, Ivy tells Karen not to get ahead of herself. "I know what I bring to the party," Ivy says. Is it Pictionary? We hope she brings Pictionary. It might make her more likeable. Our big number this week was a dream sequence of Ivy's (we think), where "Let's Be Bad" goes perfectly and is complete with lots of glittery outfits. At the end, we are back in the rehearsal hall and everyone is thrilled, but Derek storms out of the room.
That night, Karen goes to an important party with Dev, where RJ explains there was a seating chart mix-up, and Karen will have to sit with a bunch of strangers over in the corner, near a ledge she can jump off. Karen uses the opportunity to lie about her role in the musical, and claims she's Marilyn. Some guy says he's the new press secretary, but we know he's lying because RJ explained to Dev that the press secretary job hasn't been filled yet. Karen takes his card.
Article continues below advertisement
OK! NEWS: SMASH STAR KATHARINE MCPHEE WAVES HAPPILY AS SHE ARRIVES AT THE TODAY SHOW
Ivy shows up at Derek's to tell him off, but she ends up "staying the night." Michael shows up at Julia's and is chummy with Leo, who invites him to stay for dinner. Michael lets it slip that he and Julia used to "hit the doobie" after a tough rehearsal. "She told me she only tried it once, at camp!" Leo screeched. Julia calls a cab for Michael and they sit out on the steps waiting. She charges to wave down every car that drives by. "Why are you trying so hard to get rid of me?" Michael asks. "You know you can't get rid of me." She says their affair is over and they do not want to mess up the families that they have. The cab finally comes, and Michael opens the door but then he walks back and plants a big kiss on Julia. And obviously, Leo is watching from the window. Don't worry, Leo! Your mom is only trying it once!
What did you think of this week's episode?