NEWS
'Smash' Recap: Workshop Woes as Bernadette Peters Shows up as Ivy's Mother!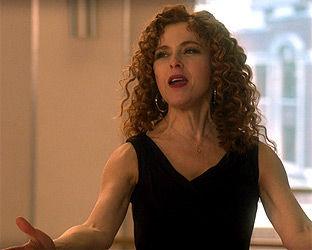 We open with creepy Michael (Will Chase) stalking around outside the studio waiting for Julia (Debra Messing). He looks like that creepy guy in high school you didn't like that hung around your locker. When she arrives, the two hold hands and giggle, and it's gross. Although they are right in front of the studio, they are surprised when Eileen (Anjelica Huston) and Derek (Jack Davenport) show up. Once inside, they allow themselves to be caught by both Tom (Christian Borle) and Ellis (Jaime Ceparo). That's four people in as many minutes. Haven't they done this whole forbidden affair thing before? Does the camera crew have a name for the shot they use when they reveal Ellis? Whenever there is a slow pan to the side, we know we're about to see Ellis, lurking and overdressed for the occasion. We are confused about how Michael and Julia didn't see him in the mirror in the rehearsal room, which is, you know. Covered with mirrors. It's also unbearably hot, because the heat is malfunctioning, or the fans aren't working. That's important for later.
Article continues below advertisement
Meanwhile, Karen (Katharine McPhee) is rushing to Bobby Raskin's office. She's trying to get there before her hideous sweater goes out of style. Too late! A lazy dude records her demo. He's probably also Leo's dealer. The whole scene is pretty embarrassing. He stares at Karen in awe, and she does more of her weird hand choreography that looks like it was stolen from a pre-school production of "You Are My Sunshine."
Later, Karen's new friends want to know how the demo-cutting went. And boom! She's alerted that Bobby Raskin wants her back in the studio — right now! Just then, Ivy (Megan Hilty) walks in with her mother, who just happens to be the amazing, legendary Broadway actress Leigh Conroy (portrayed by the amazing, legendary Broadway actress Bernadette Peters). Clamoring ensues. Before you know it, Ms. Conroy is singing "Everything's Coming Up Roses." Ivy is crushed under the heavy weight of her mother's awesomeness.
Article continues below advertisement
There are some people who are so talented, they make you sing and dance around your apartment in your pajamas, pretending you're talented. And then there are some people are so talented, they make you cry heavily into your pillow wishing that you were talented, too. Ivy's mother is the latter.
Derek has a human moment. "Listen, I know I don't say it enough, but you're wonderful in this show," he tells Ivy. Aw. Well, the journey of a million miles begins with one step, or whatever. Back to rehearsal! But wait! All of a sudden, Michael's wife and adorable toddler come running in. Is it Family Day? Julia gets upset and goes home. Derek freaks out. The workshop is tomorrow, people!
Julia finds Leo (Emory Cohen) and his buddy smoking weed and Leo lets on that he knows about her affair. Dun dun dunnnn.
Ellis tells Eileen that Julia's having an affair with Michael. Eileen warns him he will never work in this town again if he repeats it to anyone. And since Ellis wants to work in the theater, it's really not good to have someone like Eileen telling him that in New York City. Eileen loses some cool points though by hanging out with Ellis after rehearsal at the Bushwack. But who cares, the hot bartender, whose name we learn is Nick (Thorsten Kaye) is there. Ellis was tasked with finding someone to fix the heat, but he failed. For real, is he now Eileen's assistant and not Tom's? Nick overhears and proves that he can make any line of dialogue sound sexy (we already knew this from his days on All My Children). The gem this episode is: "You've never heard of a Chinese plumber?" Swoon! Nick promises Eileen a plumber.
Article continues below advertisement
OK! NEWS: IS DEBRA MESSING DATING HER CO-STAR?
The next morning, Karen and her boyfriend wake up unrealistically easily at 6 a.m. to a phone call. It's Bobby Raskin! She declines to meet with him because of the workshop.
Later, there's a horrible scene where Julia reads Marilyn's lines with Michael. It's supposed to mirror their life of lies, and it's really awful. We can't even discuss it.
People arrive for the workshop, including a guy who represents big-name actresses like Scarlett Johansson. Rumors circulate that there are plans to replace Ivy. Also in the audience are Ivy's mom, Nick and John (Neal Bledsoe), who claps loudly when Tom's name is read as the composer. We loved that.
Ivy starts singing "Let Me Be Your Star" and we're afraid Karen actually cuts in, but it's just another fantasy/reality number. Ivy's mother is overcome with emotion watching her daughter as the star, even though it's only a workshop. Derek isn't as impressed though, and during intermission he tells Ivy to get her head in the game. Oh, and Karen falls off a stool. Still, later she says she wouldn't have missed it for the world. It's clear that Karen's heart belongs to the theater, and she has no pop star aspirations.
Article continues below advertisement
Reviews for the workshop are less than stellar, and the gang knows they need to make some revisions. It seems that Derek and Eileen's first thought is to can Ivy, but Tom saves her (again). He then saves Julia, suggesting they fire Michael. Eventually, they all agree, and only Derek is in the dark about why. Julia tells Leo that they are firing Michael, and he breaks down, hoping this means the affair is over.
Before we close, Ivy and her mom have it out. The Great Leigh Conroy just can't bring herself to compliment her daughter. "You know who else had a mother like that?" Ivy asks. "Marilyn." Lee tries to say that Marilyn was a legend, but Ivy speaks the truth. "She was an unhappy, drug-addicted disaster." We're glad somebody said it. The whole Marilyn Monroe thing gets really stale when they all go around talking about how beautiful she was and neglecting to mention the hard truths. Before Ivy's mom leaves New York, she tells her that the real reason why she's never been encouraging is because she knows how hard and painful the theater life can be. But she assures her daughter that she is a star, and that her day will come. We hope to see more of this relationship!
We think this was one of the best episodes yet. What did you think?