NEWS
Smashed Avocado Toast with Bacon & Hemp Hearts Recipe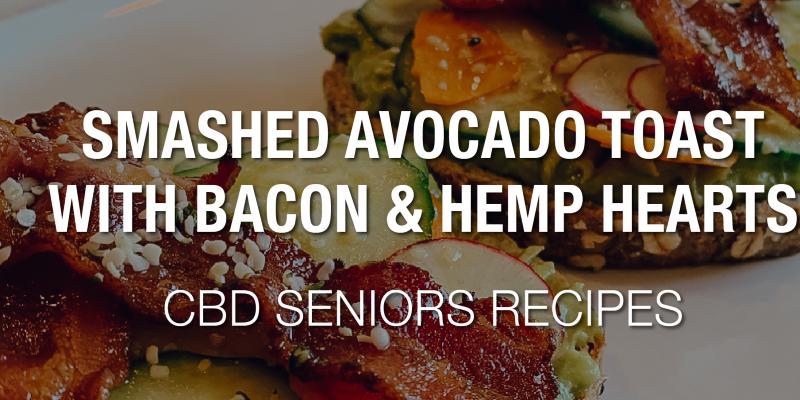 Avocado toast is everywhere. And now it's at home too – with bacon! Our take on a flavorful smashed avocado toast with bacon and hemp hearts is a little twist on a popular favorite. Read on for our simple yet satisfying recipe!
We like to take it a few steps further with our Avo Toast, adding in carrots, radishes, hemp hearts and of course, bacon. Avocado and hemp hearts are both a great source of plant-based protein as well as a heart-healthy ingredient that aids in lowering cholesterol. Consuming healthy fats like these are great for giving your body an alternative energy source than just carbs to work with. This recipe is not only delicious, but simple and easy to prepare in just 20 minutes.
Article continues below advertisement
If you want to add a little something special to your toast, top this recipe off with a drizzle of your favorite CBD tincture. CBD is a great addition to any recipe, but is perfect for this one especially, with no heat or baking needed to top it off and keep all the therapeutic properties potent. For some tips and tricks on cooking with CBD, click here.
Now let's get to avocado smashing!
Ready in 20 minutes
Article continues below advertisement
Ingredients
• 1 large hass avocado, de-seeded, flesh removed
• 1 teaspoon hemp oil
• 1 tablespoon lemon juice
• ½ teaspoon lemon zest
• 1 teaspoon honey
• ½ teaspoon kosher salt
• 1 radish, thinly sliced into rounds
• 1 persian cucumber, thinly sliced into rounds
• ¼ carrot, peeled, thinly sliced into rounds
• 1 teaspoon olive oil
• 1 tablespoon hemp hearts
• 6 pieces of bacon, cooked
• 3 pieces of whole grain bread
• 1 tablespoon butter, room temperature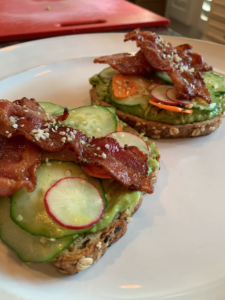 Article continues below advertisement
Preparation
1. Preheat oven to 400F
2. Add the avocado, hemp oil, lemon juice and zest, honey and salt into a bowl, and mash with a fork. Set aside.
3. With a mandolin or a sharp knife, cut the carrots, cucumbers and radish into thinly sliced rounds, mix them together with the olive oil and half a tablespoon of the hemp hearts and set aside.
4. Fry bacon, set on a paper towel to drain the grease, and set aside.
5. Butter the whole grain bread and toast them in the oven for about 7-8 minutes or a little crunchy on the outside.
6. To assemble, lay down a piece of toast, spread ⅓ of the smashed avocado, lay ⅓ of the carrot slaw on top, 2 pieces of bacon, and sprinkle some hemp hearts to finish. Repeat with the other two toasts.
7. Enjoy!
Tips
• Make sure there is a crunch and structure to the toasts, like a baguette for crostini. This is essential for the bread to be a perfect vessel for the creamy avocado.
• Turkey bacon and whipped butter can be substituted for the bacon and butter for a lighter, healthier option.