NEWS
'SNL' TSA Skit: "It's Our Business to Touch Yours"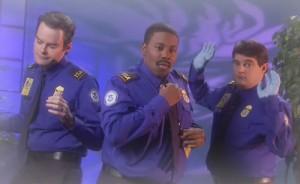 With holiday travels coming up, the controversy over the new airport security measures set by the Transportation Security Administration is heating up. Saturday Night Live showcased their take on the criticism over the weekend and you don't want to miss it!
OK! VIDEO: ANNE HATHAWAY TRIGGERS KATIE HOLMES ON SNL
In a "Message from the TSA" sketch this weekend, SNL performed an advertisement from the TSA saying the new full body scanners and "enhanced" pat-downs are a way for lonely travelers to "get contact in certain special places."
Article continues below advertisement
"Feeling lonely this holiday season?" Kristen Wiig asks in the skit.
"Looking for a little human interaction?" Abby Elliot adds.
"Do you want to feel contact in certain special places?" Nasim Pedrad asks.
"Then why not go through security at an airport?" chimes in Keenan Thompson says dressed as a TSA agent.
"TSA agents are ready and standing by to give you a little something extra to feel thankful about this holiday season," Bill Hader says.
OK! VIDEO: SCARLETT JOHANSSON & JASON SUDEIKIS IN NEW SNL PROMO
The newly-implemented full body scanners has received a lot of criticism of which SNL is playing off of.
However, in a statement made yesterday (via CBS News), John Pistole an administrator of the TSA said regulations would be "adapted as conditions warrant" in order to make them "as minimally invasive as possible, while still providing the security that the American people want and deserve."
Watch the SNL skit below! What do you think of the new TSA security measures?