NEWS
'Snooki and JWOWW' Show Premieres Tonight: Worth It to Watch?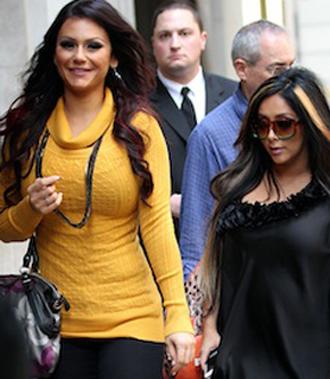 Snooki & JWoww, the Jersey Shore spin-off that debuts tonight on MTV, may have been an entirely different show had Snooks (Nicole Polizzi) not gotten knocked up just weeks before filming started.
OK! GALLERIES: SNOOKI SHOWS OFF HER BABY BUMP AT THE JERSEY SHORE
"I was in my first trimester," she told The Associated Press. "Usually during that time you're very tired, you get sick a lot, so I was just basically tired a lot and I was grumpy."
Article continues below advertisement
However, the more low-key Snooki may have worked better, since the show's premise revolves around the two party girls settling down and getting their own apartment together in Jersey City, N.J. Seeing as both gals are in their mid-twenties, this could have been a believable slice-of-life, but lest the viewers forget: Snooki and JWoww (Jenni Farley) are pretty close to millionaires at this point.
As The New York Daily News reports, in the premiere both ladies have to convince their parents to let them move out. While both sets are trepidatious, Snooki makes the joke that if she and Jenni run out of money for electricity, they can "burn candles like the Amish."
Really?
OK! NEWS: PREGNANT SNOOKI'S SHOTGUN WEDDING!
Seeing as the pair are still gainfully employed by that major cash cow Jersey Shore, jokes like those come off as less reality show and more a scripted series, the paper reports.
One thing still intact? Snooki's ridiculous sense of humor.
"Instead of life throwing me a curve ball, it threw me a sperm ball," she tells the camera.
Amusing... if you ignore the mental picture, that is.