NEWS
Snooki Headed to Shores of Seaside for NYE, Not Times Square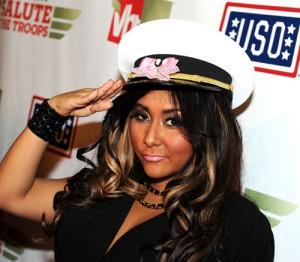 If you were worried your New Year's Eve was going to be Snooki-less, have no fear! Everyone's favorite pint-sized guidette will still be ringing in 2011 with the highly-anticipated Snooki Ball Drop, just not in Times Square. The Jersey Shore star is going back to the place were it all began — Seaside Heights!
"We love our Times Square home and while we're disappointed there won't be a Snooki ball drop there, she cannot be denied! So we're taking a road trip to the place where it all began, Seaside Heights, and droppin' it all there," MTV said in a statement today.
Article continues below advertisement
OK! NEWS: SNOOKI BANNED FROM TIME SQUARE STUNT ON NEW YEAR'S EVE
While the ball drop was previously planned for MTV's Times Square headquarters, other arrangements had to be made.
Co-producers of the annual event in Times Square told Entertainment Weekly, "It was never intended or requested to for Snooki to be in the actual New Year's Eve Ball in Times Square. The request to have her in a separate ball on a set-back roof came too late and was too impractical to fit in to our outdoor events."
The special will provide a comedic look back at 2010, as well as an extended sneak peek of the forthcoming season of Jersey Shore.
Hosted by comedian and rising star Whitney Cummings, the NYE program will feature appearances by Jersey Shore cast members, Saturday Night Live's Bobby Moynihan, comedian Nick Kroll, YouTube phenomenon Keenan Cahill, Pretty Little Liars cast members Ashley Benson and Shay Mitchell plus performances from hip-hop artist Flo Rida.
Catch MTV'S live New Year's Bash 2011 on MTV and MTV2 on Dec. 31 at 10:30pm ET.