NEWS
Snooki Preps For Guido Babies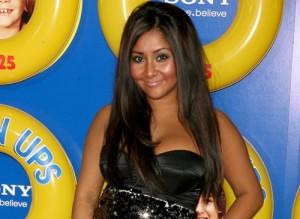 Nicole "Snooki" Polizzi can't wait to be a mom. Although the Jersey Shore star, 22, is not dating anyone seriously, she intends to tackle motherhood at age 27.
But first: She's on the hunt for the father of her children.
"I want my own show, Snookin' For Love, and then when I find love, I want another show with guido babies," she says during the Grown Ups premiere held Wednesday at NYC's Ziegfeld Theatre.
Article continues below advertisement
Hmm, what is she looking for in a guy?
"I want a guy who knows how to have fun and be dorky like me. Nobody shy. But they have to have the muscles and go GTL or I'm not interested!"
She calls 27 her ideal age to begin a family.
"I want to be a MILF when my kid's 18," she says. "I don't want to be gross and saggy."
And how will the Poughkeepsie-born princess raise their kids?
"I'm very family-oriented, so definitely I at least want a boy and a girl. And I want them to be involved in sports and respect elderly people, like myself, when they're little."
MORE ON:
Red Carpet Confidential
For Snooki, raising little mini-mes will be a joy, and her own childhood will serve as a guide.
"I was into gymnastics and cheerleading. I definitely grew up as the popular girl, but I was nice to everybody. I just like to be the center of attention, and I think I was always like that. If you see my baby videos, I'm all over the place."
What makes a good mom?
"TLC," she says.
Jersey Shore pal Jenni "JWoww" Farley will likely be by her side as she goes through life's changes.
"She's like my little sister – the sister I never wanted," JWoww laughs. "She's literally my best friend."
Here's my pic with Snooki:
hits theaters Friday, and Jersey Shore's season two begins July 29 on MTV. And, pick up the OK! on newsstands now for more on Snooki's diet. The cover line is Jennifer Aniston/"Yes! I Am Having A Baby."