NEWS
Snooki Reveals Her Baby Boy's Name & Talks Pregnant Life Down the Jersey Shore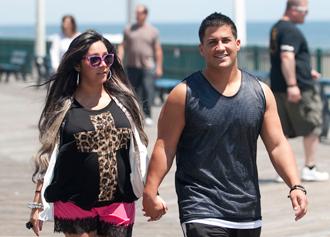 Nicole "Snooki" Polizzi is spending her summer a bit differently than she used to. Now that the Jersey Shore star is pregnant, she's getting accustomed to her new lifestyle down in Seaside Heights, N.J., where the cast has begun shooting season six of the beloved MTV reality show.
Snooki, who's expecting her first child — a baby boy — with fiancé Jionni LaValle, opened up to Good Morning America about her healthy new lifestyle, discussed her thoughts on breastfeeding and revealed the name she's chosen for her unborn son!
Article continues below advertisement
"I think we're going to do 'Lorenzo,'" Snooki said. "Because then you can call him 'Enzo.'"
OK! GALLERY: SNOOKI SHOWS OFF HER BUMP AT THE JERSEY SHORE
As for whether or not little Enzo will have any siblings to grow up with, Snooki and Jionni said definitely. "Being adopted and the only child, I want my kids to have brothers and sisters to hang out with," Snooki, who wants "three more kids," explained, adding, "I was lonely."
The self-proclaimed guidette also revealed that she's "scared" to breastfeed, saying she's not sure whether she'll bottle-feed baby Enzo or not.
"I'm just scared," she said. "My friend did breastfeed and she said it was so painful... but I definitely want to pump because it's the best nutrients for the baby."
Although she's not completely convinced that pumping is the best choice either, saying, "It's kind of like you're a cow and you're just milking."
Article continues below advertisement
But as everyone's noticed, Snooki has made dramatic changes to her lifestyle and has really embraced pregnancy.
"Pregnant people shouldn't be in a bar, I feel," the Jersey Shore's previous party girl, said. "All my friends are like, 'You can have a glass of wine.' I'm like, 'No.' I refuse because I'm going to be that person that has a glass of wine and the baby comes out with three legs."
"I just don't like to be around people that drink because then I'll be like, 'Cool, I miss it,'" Snooki added.
As for how she feels about giving up tanning, Snooki admitted she still uses pregnancy-safe tanning beds and has taken up spray tanning.
"I'm actually embracing the paleness," Snooki said. "It's kind of a new look."